Apple iPad mini (with 7.85-Inch display?) event confirmed: October 23
Long rumored iPad mini might become reality in two weeks, when Apple is expected to hold a special media event for the 7.85-Inch tablet.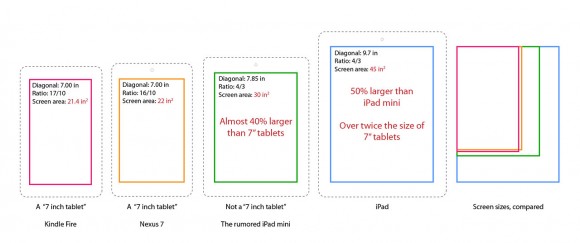 On Friday All Things D reported:
"Apple will hold a special event this month, at which it will showcase a new, smaller iPad. People familiar with Apple's plans tell us that the company will unveil the so-called "iPad mini" on Oct. 23 at an invitation-only event."
The October 23, 2012 Apple iPad Mini event date is confirmed by Jim Dalrymple at Loop Insight.
iPad Mini Specs
This summer, John Gruber at Daring Fireball wrote this analysis about the rumored iPad mini with 7.85″ display, and how it differs from that of the 7″ devices such as that of Kindle Fire and other Android train wrecks:
"The purported iPad Mini display offers 66 percent of the surface area of a 9.7-inch iPad, not 45 percent [of the 7" devices]."
That means the rumored 7.85-Inch iPad Mini would have almost 50% more screen space than 7-Inch devices. Due to the almost 8-Inch display size, the iPad mini would be able to offer tap targets are of the "same physical size" as the iPhone, and are more usable than the 7-inch tablets.

Related Posts