Android Winning! Google Stock Dived 9% on Motorola Loss, Trading Halted
Due to heavy losses by Motorola subsidiary revealed by the 2012 Q3 results, Google stocks dropped 9% in value before GOOG trading is halted to prevent further losses.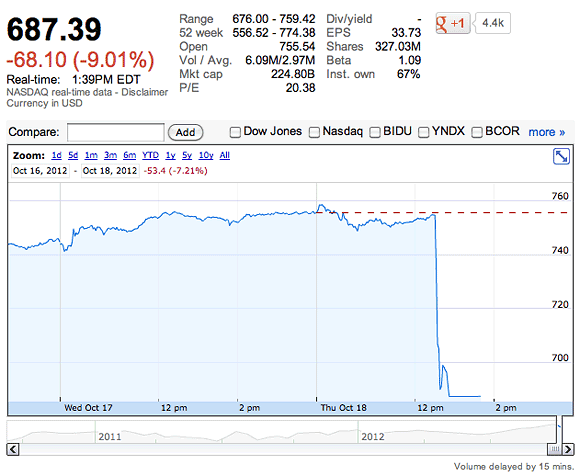 ZDNET, "Google Q3 results land with SEC early, miss big":
"Google reported its third quarter earnings early to the Securities and Exchange Commission and missed estimates by a wide margin. […]

Motorola Mobility had an operating loss of $527 million under generally accepted accounting principles. The non-GAAP loss in the third quarter was $151 million."
In late 2011, Google bought the maker of Droid line of Android phones because the failing device maker threatened to sue and tax other Android makers with its patent library.
One year later, in the third quarter of 2012, Motorola revenues were $2.58 billion ($1.78 billion from the mobile segment and $797 million from the home segment). Its GAAP loss is -20% of Motorola revenues.
The phone maker's mounting losses might be a reason why the Google owned Motorola recently broke their promise to update their 2011 flagship Android phones to the latest OS.

Related Posts