New iPhone 5 with 4-Inch Display: Thinner, Lighter, LTE
New 2012 iPhone is thinner, lighter, and can still be used with one hand.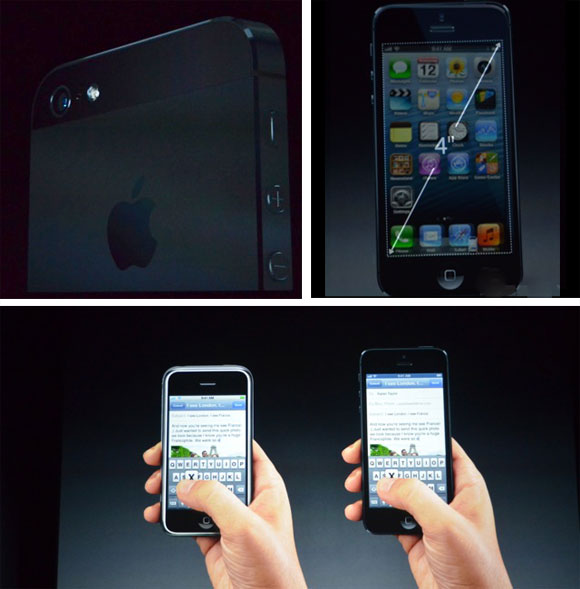 Apple introduces the new 2012 iPhone today. And as leaked this morning, the new iPhone is called the iPhone 5.
iPhone 5 features:
4-Inch display
Thinner: 7.6mm, 18% thinner
Lighter: 112 grams, 20% lighter
1136 x 640 Retina Display with 16:9 aspect ratio
LTE (faster data speed on supported network) without battery loss
New Wifi with 2.4ghz and 5ghz on 802.11n
A6 processor: 2x faster CPU, 2x faster graphics
Better camera
Image combined from The Verge live blog by ObamaPacman.
Battery life of iPhone 5:
3G talk time: 8 hours
3G browsing: 8 hours
LTE browsing: 8 hours
Wi-fi browsing: 10 hours
Video: 10 hours
Music: 40 hours
Standby: 225 hours (over 9 days)
Pro tip from ObamaPacman: put iPhone in Airplane Mode to maximize standby life.
New iPhone 5 camera:
Better 8MP camera
Panorama mode with up to 28 mexapixels
Better low light photos: up to 2 f-stops greater light performance
Read up more on the Apple iPhone page

Related Posts