Five million iPhone 5 sold in first three days, more demand per capita than iPhone 4S
On Monday, Apple announced that it sold over five million of its new iPhone 5, just three days after its launch on September 21.
"Demand for iPhone 5 exceeded the initial supply and while the majority of pre-orders have been shipped to customers, many are scheduled to be shipped in October."
First day delivery of iPhone 5 sold out within 40 minutes when Apple made it available for online pre-order on September 14.
iPhone 5 is currently available in the US, Australia, Canada, France, Germany, Hong Kong, Japan, Singapore and the UK. It will be launched in 22 more countries on September 28, and more than 100 countries by end of the year.
More iPhone 5 Sold Per Capita
Last year, Apple sold 4 million iPhone 4S in three days. But iPhone 5 was available in more countries at launch, so how do you compare the sales? Analysis by Horace Dediu of Asymco includes this chart of opening weekend iPhone sales per thousand inhabitants: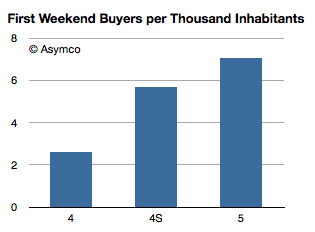 Horace also noted that the sales could probably be even higher if inventory between retail and online sales was allocated better.
The openness of Android must be killing the iPhone.

Related Posts