Verdict: Samsung Guilty of Copying Apple, Owes $1.05 Billion [SameSung]
Apple scored major win vs. Samsung's slavish copying of iPhone and iPad.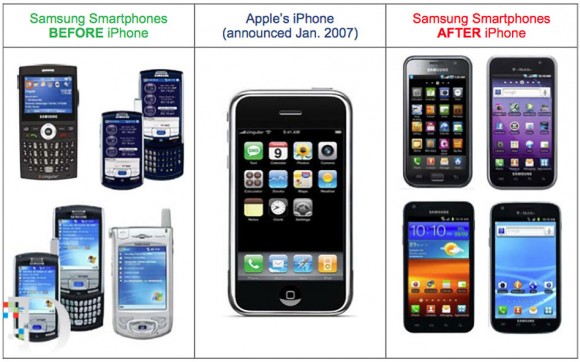 The Verge on the verdict:
"After a surprisingly short time in deliberations, the jury in the Apple v. Samsung case reached a verdict today. The nine jurors decided unanimously that Samsung had infringed on Apple's intellectual property, and while Cupertino won't be getting the more than $2.5 billion it asked for, it will be getting at least $1,049,343,540."
Highlights:
Samsung violated most of Apple patents, including bounce back
All Apple patents are valid
Apple devices do not violate Samsung's standards-essential patents. Because Apple part supplier Intel already licensed it from Samsung, it cannot double charge Apple
The jury found willful infringement by Samsung, which could potentially triple the damages to over $3 billion dollars
So, what's next? Apple will likely ask for injunction, and a hearing is scheduled for September 20th.
This case doesn't consider Samsung's iPod touch knockoff, Mac Mini knockoff, and Genius Bar trademark knockoff.
PSA: Are Samsung phones equivalent to the Apple iPhone? Nope, Samsung already removed some infringing features such as bounce-back from its latest phones. The product quality are also reflected in customer satisfaction ranking of iPhone and smart phones.
Image by All Things D.


Related Posts