Former Google Vice President, new Yahoo CEO Marissa Mayer Uses iPhone
Former Google executive used iPhone while she was Vice President of Google!
As employee number 20, Marissa Mayer was the first female engineer of Google. She rose up the ranks to became Google's Vice President of Search Products and User Experience, and then in October 2010 became Vice President of Local, Maps & Location Services at Google.
So what phone does Mayer use, yesterday @Gruber asked? Surely a Google executive would use one of these segmented choices of Android phones. Or perhaps the Galaxy Nexus, which is supposed to provide the "best" Android experience?
Nope. Mayer used an iPhone on her personal time, as shown in this 2011 @marissamayer tweet (and more recently with June 2012 tweet, which is hidden from Twitter's public timeline but you can see the telltale app in Safari or Chrome):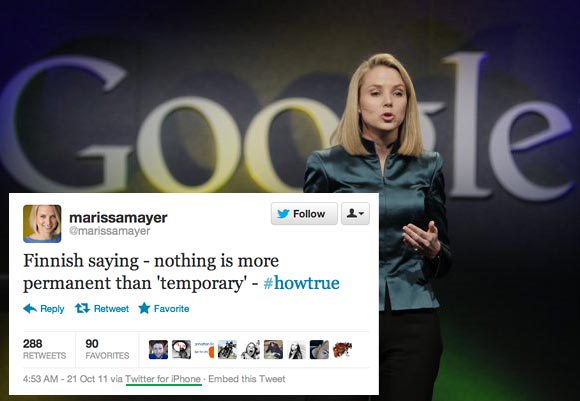 In most of the public tweets while she was employeed at Google, she posted "via web" instead of using Android. Why would Google executive not use its own product? We believe it's due to the poor Android user satisfaction.
Yesterday quitting her Google job, Marissa Mayer becomes new CEO of the $19 billion dollar Yahoo, effective today.
Photo of Google VP Marissa Mayer from 2009 by Marcio Jose Sanchez for Yahoo / AP. Combined with Tweet by ObamaPacman.

Related Posts