Fieldrunners 2 released as iPhone Exclusive, iPad in the Future (and Android Status)
New version of the great tower defense game released today for iOS.
What does it say if a game was released for iPhone, iPad, Google Play, Amazon, PSP, Nintendo DS, web, BlackBerry, Steam for Mac and PC, and then the developer choose to release their new game as iPhone first?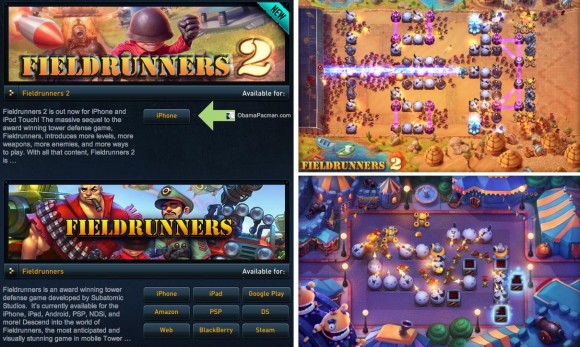 Available as a $2.99 download, Fieldrunners 2 for iPhone and iPod touch (Kotaku review) is climbing the charts on the App Store. It was number 9 about two hour ago, and is currently number 6 on the App Store.
What about iPad HD version or Android version? ObamaPacman was told by a source that:
iPad version is not finished yet. As to Android, ask again when the development team get some sleep and see their families.
Fieldrunners was first released for iPhone in 2008, Android in 2011, and Steam in 2012. Fieldrunners 2 web page currently only lists only iPhone and iPod touch availability.
Maybe they didn't get the Google's "Android first" order.
The original Fieldrunners was one of the first games to add iOS Game Center support.

Related Posts