The Next ZunePad: Microsoft Introduces "Surface" Tablet with Heat Vents
On Monday, Microsoft announced that it intends to release its own Windows 8 based tablets in the future.
The Microsoft Surface tablet will hedge its chances with two different architectures. A "full" Windows 8 version with Intel processors (used in laptop or netbook), the other with ARM processors (used in mainstream tablets) and Windows RT. The Verge:
"The Windows RT version is just 9.3mm thin, weighs 1.5lbs, includes a built-in kickstand, and is the first PC with a vapor-deposited (PVD) magnesium case, according to Microsoft. It will ship in 32GB or 64GB versions, complete with a 10.6-inch ClearType HD display (of unknown resolution).

Microsoft's Intel-based Surface tablet will run Windows 8 Pro, with a thickness of 13.5mm, a weight of [2.0*]lbs, and USB 3.0 support. This particular version will also include magnesium casing and a built-in kickstand, but will ship with either 64GB or 128GB storage. Additionally, the Intel version will include additional digital ink support through a pen that magnetizes to the body of the tablet"
ObamaPacman: * The weight is 903grams = 1.99 pounds, which is closer to 2 pound than the weight listed by the verge.
Here's the "Surface Spec Sheet" Microsoft published with clear product images: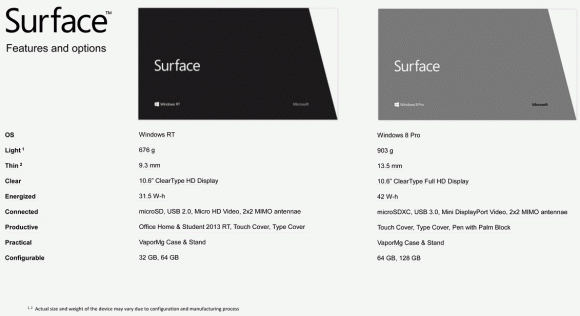 It notes: "Actual size and weight of the device may vary due to configuration and manufacturing process", so it could be heavier.
The bulk of Microsoft's vague announcement was about the device's exterior construction and multi-colored Smart Cover Type keyboard covers. The live product demo was very short. And the actual details are vague:
No release date
No battery life
No price
One thing is for sure. Similar to the prototype Microsoft tablet, Microsoft confirmed that its Windows 8 Pro Surface tablet will be so hot it will have heat vents: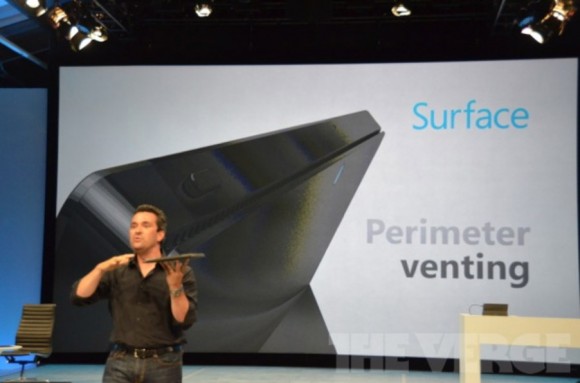 What are the chances for this product? In 2010 Microsoft tried to preempt the iPad announcement by announcing the HP Slate tablet PC. That announcement was about as vague, and of course the me-too product failed in the market against the iPad.
At least Microsoft's PC partners will be happy. Not. The last time Microsoft tried to sell its own hardware (with the Zune), it killed all its OEM partners of Windows CE based music players. This time, at least for now, PC OEMs such as HP or Dell can still pay the high price of around $80 per device to license Windows 8 for tablet to compete with Microsoft Surface.
Here's the official Microsoft Surfaces for Windows 8 tablet ad that doesn't show you how well it works:

And their keynote video (you can download MP4 video from Microsoft as "SD" or "broadcast" quality):


Related Posts