Retina Display MacBook Pro Runs 4 Displays
The Apple laptop runs 3 external displays, 1 retina display, and total of over 15 megapixels.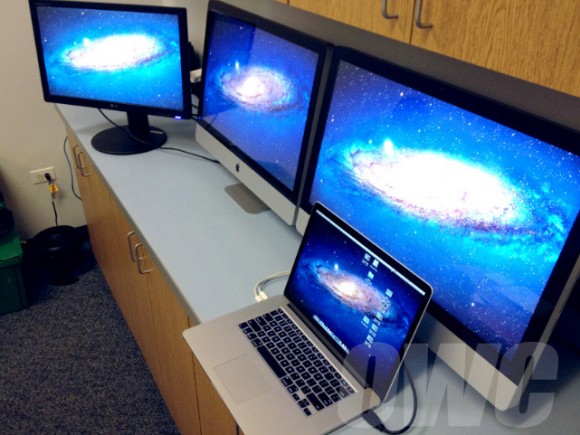 Today, Mike at the OWC blog ran 4 displays on their new 15-Inch 2012 Retina display MacBook Pro (RMBP). For the test, the Apple laptop powered:
iMac as 2560 x 1440 display through thunderbolt cable
iMac as 2560 x 1440 display through displayport cable
1920 x 1200 display through HDMI
Internal 2880 x 1800 Retina display at "best for Retina"
On image quality:
"Moving images and media didn't create any lag and we were able to play video on all four displays simultaneously."
They stopped the testing at 3 external displays, each plugged into its own port. Does it support any more displays by daisy-chaining them? OWC Mike:
"We may indeed try that test next, though it got pretty hot running four, and we had to plug them in one at a time to get the system to accept all screen. After it got it all setup, it was solid after that, with restarts making all the screen appear without fail. Stay tuned."
In comparison, also with 2 Thunderbolt ports, the 2011 iMac support a total of 2 external displays in either daisy chain or one on each port. Could the RMBP support more than two displays? We doubt it, but since the Retina display MacBook Pro has a newer graphics card, perhaps. We'll let you know either way.

Related Posts