Retina Display MacBook Pro: More Than Pixel Doubled 1440 x 900
5 resolution options are supported with the new 15-Inch 2880-by-1800 IPS LED Retina display MacBook Pro.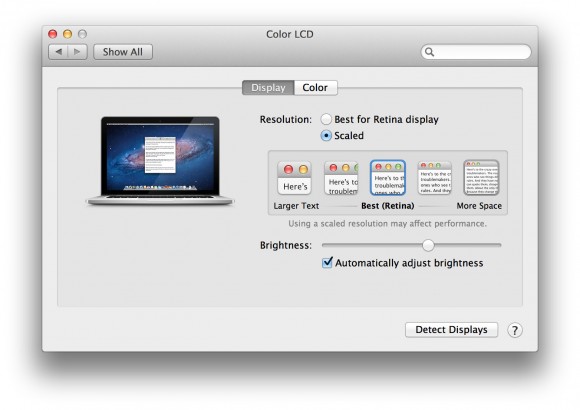 With With iPhone 4 and iPad 3, Apple introduced pixel doubled Retina displays, which uses x2 graphic assets. Will the 2012 Retina MacBook Pro just be pixel doubled?
In System Preferences, Apple listed 5 options from "Larger Text" to "Best" (Retina) to "More Space". On its specs page, Apple lists the 2880 by 1800 pixels Retina display supports these screen sizes:
1920 by 1200
1680 by 1050
1440 by 900 at native Retina display quality
1280 by 800
1024 by 640
But won't the non-native resolutions get blurry? Most displays are made with one optimal native resolution in mind, and up to now, changing the resolution to non-native resolution results with blurry / fuzzy text and images.
In its quick review, Anandtech quick review of the 2012 MacBook Pro notes:
"Even at the non-integer scaled 1680 x 1050 setting, the Retina Display looks a lot better than last year's high-res panel. It looks like Apple actually renders the screen at twice the selected resolution before scaling it to fit the 2880 x 1800 panel (in other words, at 1920 x 1200 Apple is rendering everything at 3840 x 2400 (!) before scaling – this is likely where the perf impact is seen, but I'm trying to find a way to quantify that now). Everything just looks better."
It's not resolution independence, but it will work for most people.
The high quality alternative resolution rendering works if the app has the @2x asset, and uses Apple's text rendering API. Chrome currently uses its own text rendering but a beta appears to fix it.
In terms of games, some games such as Diablo 3 support the native 2880 x 1800, but Portal 2 currently doesn't. Well, for games you typically don't want to play at the insanely high 5 megapixel resolution anyway, but hopefully we can see some Retina display optimized OS X exclusive games soon.
P.S. Apple used Think Different text in the Retina display system preference: "here's to the crazy ones…":


Related Posts