Reasons for US Injunction of Samsung Galaxy Tab 10.1 Android Tablet
Court found Samsung infringement caused irreparable harm to Apple. Due to "strong merit" of Apple's case, preliminary injunction was granted in the US against the Samsung tablet.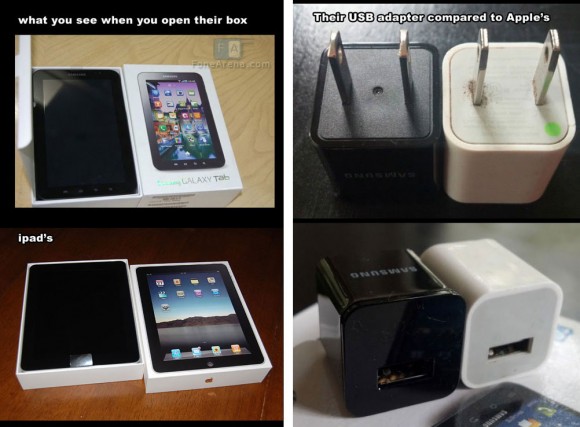 Image partly from reddit.
The Korean decent U.S. District Judge Lucy Koh, who denied the injunction in December 2011, changed her ruling due to federal appeals court recommendation. Reuters reports on the Samsung Galaxy Tab 10.1 injunction:
"'Although Samsung has a right to compete, it does not have a right to compete unfairly, by flooding the market with infringing products,' Koh wrote on Tuesday, adding the order should become effective once Apple posts a $2.6 million bond to protect against damages suffered by Samsung if the injunction is later found to have been wrong."
About validity of Apple patent D504,889 ("D'889"), Judge Koh:
"In the December 2, 2011 Order, this Court found that Apple had established that the Samsung Galaxy Tab 10.1 likely infringed upon the D'889 Patent, and that Apple was likely to suffer irreparable harm as a result of Samsung's infringing conduct. See December 2 Order at 39-50. However, the Court denied the preliminary injunction because the D'889 Patent was likely invalid based on several prior art references. Id. at 40-45, 50. The Federal Circuit upheld the Court's findings of infringement and irreparable harm with respect to the D'889 Patent, but reversed the Court's invalidity finding as to that patent."
The Federal circuit court also ruled that "Samsung has not raised a substantial question as to the validity of the D'889 Patent".
What about hardship on Samsung or a company's "right" for competition? Copycats beware. Ruling:
"[o]ne who elects to build a business on a product found to infringe cannot be heard to complain if an injunction against a continuing infringement destroys the business so elected."
What about the design of Apple iPad vs. the Samsung product? Court ruled that Samsung tried to copy Apple by making its tablet "virtually indistinguishable" from the Apple iPad:
"This Court previously found the Galaxy Tab 10.1 to be substantially similar 'in the eyes of the ordinary observer' to the D'889. See December 12 Order at 45. Indeed, the Court noted that the GalaxyTab 10.1 is 'virtually indistinguishable' from Apple's iPad and iPad 2. See id. at 47. In combination with the Federal Circuit's determination that the D'889 Patent will likely withstand Samsung's validity challenge, Apple has established a strong claim on the merits."
In addition, judge Koh: "there was some evidence that Samsung altered its design to make its product look more like Apple".
What do we at ObamaPacman think about the ruling?
Good: it sets a precedence for the United States.
Bad: it's way too late. The ban should have happened in December last year. At this time, Samsung already released a different version.
Judge Koh also denied injunction on the new Samsung Galaxy S3 phone due to excuse of "lack of time". I wonder if the ruling will be reversed 6 months from now.
Here's the full 8 page ruling:
PS. For the nay sayers, surely Samsung does not copy Apple:

Related Posts