Instapaper iOS App: Starbucks Promo [Freebie]
Pickup the pioneering "read it later" iOS app, Instapaper, for free at Starbucks this week.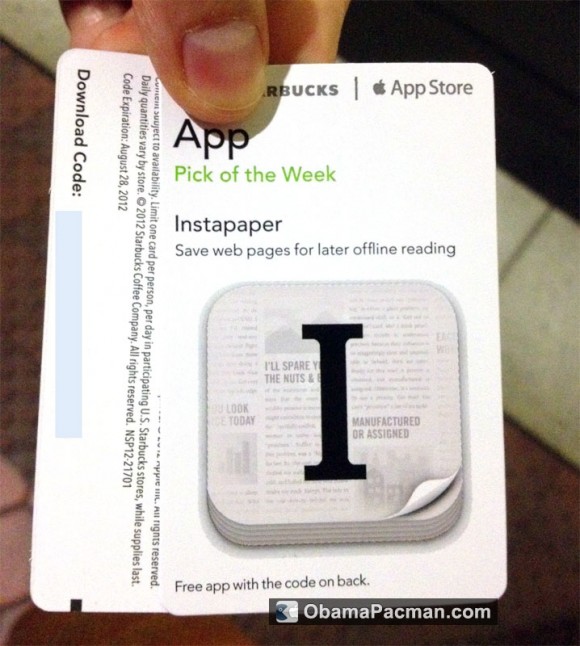 The $4.99 Instapaper app (Universal for iPhone, iPad, and iPod touch) is free right now at select Starbucks counter. The small Starbucks inside of a supermarket near me didn't have it, but my girlfriend was able to grab one from downtown Washington DC. If you are at San Francisco getting ready for WWDC 2012, then good luck getting one.
Instapaper features:
Saves most web pages as text only
Available offline (take it on the airplane or subway)
Various font types, sizes, night mode
Dictionary and Wikipedia lookups
Preview links in the built-in browser
Send to Instapaper via email, Twitter, Facebook, Pinboard, Evernote, Tumblr, etc.
Got the promo code for Instapaper? Here's how to redeem the promo code on iOS device.
Step 1: Starbucks App Promo, Step 2: Profit?
Is the developer of Instapaper Marco Arment making a kazillion dollars with this from Starbucks? @marcoarment tweeted earlier this week that:
"I gave permission for the Starbucks promotion, and I don't get paid for those downloads. I did it for the promotional value."
And that promo code app downloads does not count toward App Store ranking:
"If promo-code redemptions counted toward ranks, I'd be doing ridiculously well right now."

Related Posts