Drafts for iPhone [Freebie]
App is free until start of WWDC, 1PM eastern time today.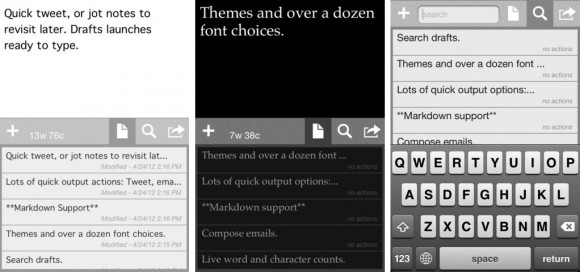 Drafts [App Store] is an app to quickly note ideas on iPhone or iPod touch. Normally $0.99, it's available as a free download for another 100 minutes. Features include:
Opens to new blank draft
Auto save
Search drafts
Dropbox, evernote sync support
Forward drafts to other apps including Tweetbot, Twitter, OmniFocus, Things, Simplenote, Sparrow, The Hit List, Echofon, Due, Byword, WriteUp, Buffer, Bang On
Themes and fonts to customize writing environment
For the power user:
Live word and character counts
MARKDOWN SUPPORT: Use [Markdown](http://daringfireball.net/projects/markdown/) to format text, and Drafts can convert it to HTML. Preview the HTML in Drafts, create a HTML email, or copy it to the clipboard for use in other apps.
TEXTEXPANDER SUPPORT: Drafts supports TextExpander Touch ($4.99) for expanding commonly used text snippets.
Neat. Created by Agile Tortoise.

Related Posts