Asphalt 7: Heat iOS Racing Game [Review]
Newest version of the arcade styled racing game for iPhone, iPad, and iPod touch released today!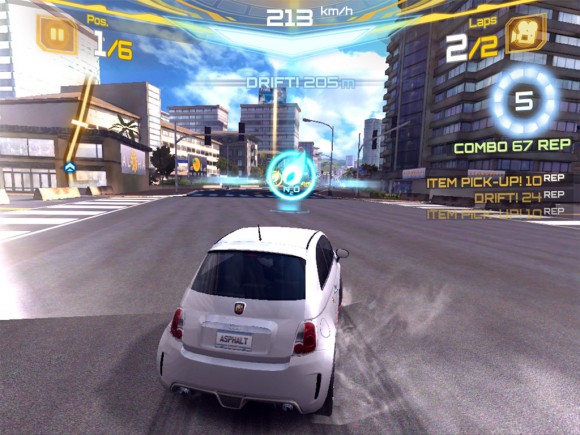 Asphalt 6 for iOS is one of our favorite racing games for iOS, so we are excited to see that Asphalt 7: Heat [Universal App] was released today for iOS by GameLoft. Like many other games and apps, Asphalt 7 is released for iOS first. Android users would have to wait.
It currently costs $0.99 on the App Store. This excellent racer is ObamaPacman approved. Download it if you like racing games. Features:
60 cars to unlock, including Ferrari, Lamborghini, Aston Martin, and DeLorean
15 tracks
Single player career
Multiplayer locally or online with up to 6 total racers
6 different game modes with 15 leagues and 150 different races
Customize your car with paint, decals, and tinted windows in different colors
Each race you win earn "Asphalt Dollars" and "Asphalt Stars". Completing achievements also earn you stars. Stars unlock availability of cars, upgrades, and racing circuits. Once unlocked, you still have to pay for a new car or car upgrades with your earnings. You can also rent car with your earnings. You can also the money to buy "Sponsors" or bonus stats.
There is in-app-purchase from $1.99 to $99.99 (WTF?) each for money and stars. So if you got a kid, make sure to turn off in app purchases with iOS parental control. Otherwise you might see a surprise $200 bill on a $1 app.
Pro tips from ObamaPacman for Asphalt 7 and Asphalt 6:
Drifting around corners is essential. To drift, briefly tap brake and turn. Keep device at an angle to continue drifting. To get out of the drift, tap brake briefly.
Activating FULL nitro gets you knockdown mode. While activated bump other cars to knock them off the road
Look out for shortcuts that can may save you time
Like:
Longer tracks than Asphalt 6
Better animation after knockdown of other cars. With Asphalt 6 it's easy to crash while performing the move
Dislike:
Graphics quality could be improved on the iPad. There is slightly jagged edges even on the car model. We hope this can be improved in the future because the 1 year old Asphalt 6 HD looks smooth and much better on the iPad 3
Car stats are shown one at a time. Asphalt 6 HD showed all car stats on screen, so it seems that the development team went the easy route and supersized iPhone GUI for the iPad version. Lame.
Fewer coloring option than Asphalt 6
No Game Center, tries to get you to sign up to "Asphalt Tracker"
Evil GUI designed to try to get you to share everything. After the race, green button = share result, this will get annoying
Ridiculously priced in app purchases as mentioned above
Overall, Asphalt 7: Heat [Universal App] is an excellent racing game with great tracks, despite the insane OPTIONAL in app purchase. And if you haven't played it yet, give the more beautiful Asphalt 6: Adrenaline [iPhone and iPod touch / iPad] a try.
Tested with Asphalt 7 Version: 1.0.0 released on Jun 21, 2012.

Related Posts