Apple Launching Standalone Podcast App in iOS 6
A great iTunes feature buried in iOS will become a standalone app in iOS 6.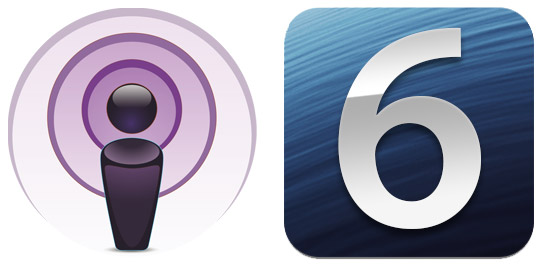 Podcasts have been available for free on iTunes since 2005 for the iPod. They are available on newer iOS device of course, but it's not easy to access these audio or video podcasts. Currently, they are 2 levels deep in iOS:
To download a podcast, go to iTunes App, "More", and then Podcasts
To play a podcast, go to Music App, "More", and then Podcasts
Peter Kafka at AllThingsD reports that with iOS 6, Podcast will be its own app:
"People familiar with Apple's plans tell me that when its new iOS 6 software becomes widely available this fall, podcasts will have their own app, where users will be able to discover, download and play them on mobile devices. Users who access iTunes via laptop and desktop machines will still find them in that version of iTunes, though."
Apple already launched a few standalone Universal apps for various types of media since the introduction of the iPad:
iBooks for PDF and books
iTunes University for podcasts from education institutions, although the content can still be downloaded from iTunes app
iOS iPod app got split up into built in "Music" app and "Videos" app
A podcast app seems to be a logical next step to make the giant iTunes store easier to access.
In related note, if you watch or listen to a lot of podcasts, you might want to consider this great podcast downloader and player: Downcast [App Store, $1.99 Universal App]. Features include:
Manually subscribe to third party podcasts using URL
Stream or download episodes
No need to sync with iTunes
Smart playlists
Multiple playback speed from slow .5x to fast 3x
Support for password-protected episodes
AirPlay, and more

Related Posts