Apple Inventory System Revealed New 2012 MacBook Air, MacBook Pro, iMac, & Mac Pro
Report: new AirPort Express, Macs, and USB 3.0 Gigabit ethernet adapter for MacBook Air are coming.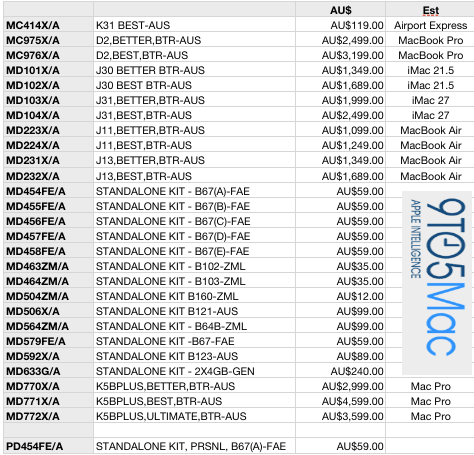 9to5Mac posts a "complete" list of Apple's new products from its inventory system, and provided their best guess on the new 2012 Mac lineup:
2 MacBook Pro
2 iMac 21.5-inch
2 iMac 27-inch
4 MacBook Air
3 Mac Pro
Prices are in Australian dollars, which is about the same exchange rate as US dollars, but it contains 10% goods and services tax (GST). Apple's US prices do not include sales tax, which varies by state.
Judging from this, the new MacBook Air should still start at $999 USD before tax. But would Apple only introduce two models of MacBook Pro at $2200 and $2900 USD? We'll let you know next Monday, when Apple is set to introduce a score of new products at the 2012 WWDC.
LOL at someone posting passive aggressive "AI sucks" in image file name.

Related Posts