iPhone 5 CAD Schematic: Leaked Diagram [Analysis]
Supposedly, this is the CAD drawing of the next generation 4-Inch display iPhone 5.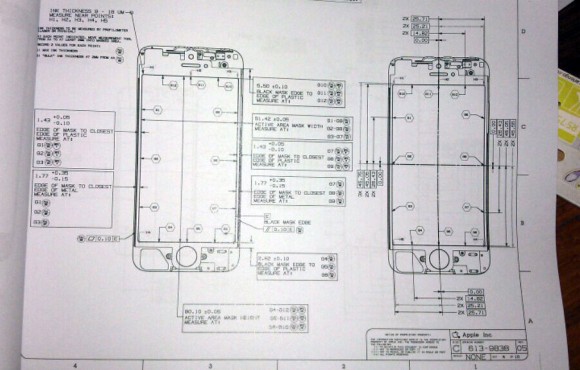 This is supposedly a leaked engineering drawing of the iPhone 5. There is no clear numerical measurement for device height, but Macrumors notes that although the screen is larger, the overall dimension is only slightly larger:
"The schematic does not show an exact total height for the part in question, but calculations based on pixel counts and the known height of the display mask area suggest that the overall height of the part is roughly 122 mm, approximately 7 mm taller than the overall height of the iPhone 4S."
Here's our rendering of the 4-Inch iPhone 5 from last week. We think this CAD schematic presents a few possibilities:
This could be an early prototype, since May is too early for Fall production (unless Apple is planning a summer iPhone launch, but that's unlikely given that Macs are due for a refresh)
This could be one of multiple prototypes Apple is trying out, and may not go into production
Document is made up with current iPhone 5 rumors, since it doesn't tell us anything new (Sometimes these rumors can be widely wrong, such as the 4.44 inch iPhone 5 CAD drawing and tapered iPhone 5 cases)
Fake document from Apple used to discover the leaker
We'll let you know when we learn more.

Related Posts