iPad 3 iOS 5.1 Untethered Jailbreak Pod2g Demo Video
Pod2g demos untethered iPad 3 jailbreak. UPDATED with iOS 5.1.1 info.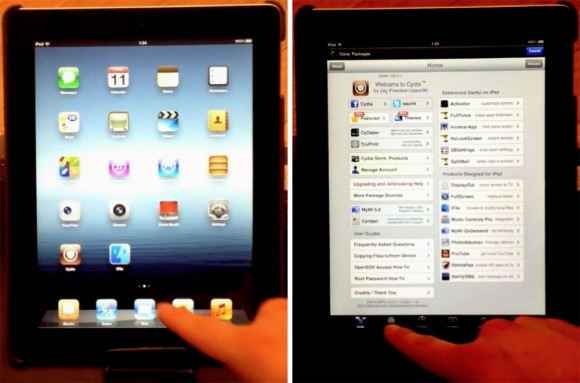 Video: iPad 3 iOS 5.1 Jailbreak Demo
The video was filmed by @pod2g , who helped created the iOS 5.0 and 5.0.1 untethered jailbreak for iPhone 4S. Filmed on May 11, 2012. Probably European time.
Hey. iPad 3,1 running iOS 5.1 untethered. Next on the list: stabilizing the payload, then trying 5.1.1.

— pod2g (@pod2g) May 10, 2012
Update: Pod2g reports that it also works with iOS 5.1.1 on iPad 3!
Few days ago, fellow hacker i0n1c / Stefan Esser also hinted iOS 5.1.1 iPad 3 jailbreak, but no ETA on release date either:
Ohhh no while I was sleeping my girlfriend accidentally upgraded my iPad 3 to iOS 5.1.1 – antid0te.com/ipad3,3_5.1.1_…

— Stefan Esser (@i0n1c) May 7, 2012
Previous untethered jailbreak took slightly over 1 month from pod2g iOS 5 jailbreak video to public release.

Related Posts