Foxconn iPhone Factory Tour by CEO Terry Gou [video]
New video showing more details of the Foxconn iPhone assembly line.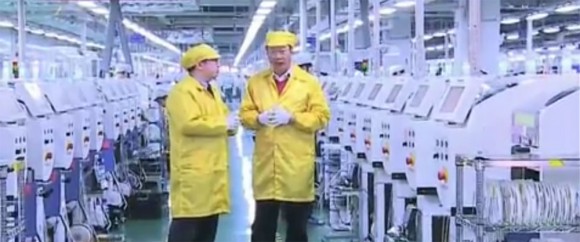 Video: Foxconn iPhone Factory Tour
Video by ifeng in Mandarin Chinese.
We got the first video look into the Foxconn factory with ABC Nightline. But that video is more about the people, with few shots of the factory floor. This video shows more of what you would see if you walk around the iPhone assembly line in Zhengzhou.
My Chinese is a bit rusty, but some of the things they said:
Quality of the factory rivals that of US, Japan, and Germany
The 148 meter long assembly line with 80 workers makes 10,000 iPhone every day
Micgadget said the plant produces 200,000 per day, and they aim to produce 400,000 per day. We believe that they will probably do that by doubling the number of production lines.
The reporter also interviewed workers in this video:

Related Posts