EA to Remotely Kill Rock Band for iPhone
This is why the gaming company Electronic Arts Inc. won the Worst Company in America 2012 award.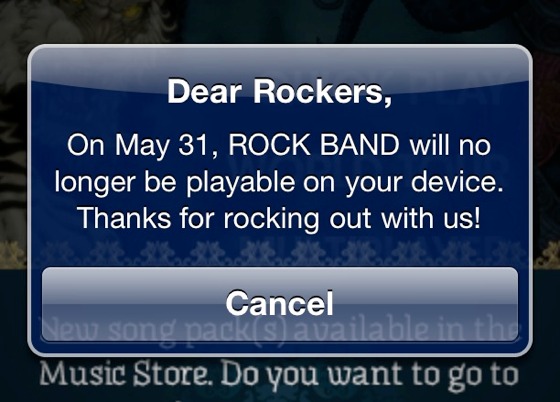 Today, customers of EA's $4.99 Rock Band for iPhone and iPod touch launched the app, they got a notification that the app will stop working in one month:
"Dear Rocker, on May 31, ROCK BAND will no longer be playable on your device. Thanks for rocking out with us!"
Rock Band app is still on sale at the app store for $4.99. Plenty of people also paid for in app purchase of "premium songs" too, and they'll be left with nothing if the app stops working. Neither the app store description nor the EA website provide any hint that the game will self destruct in weeks. EA provided no official announcements at this time.
Owners of the app are furious. If the game only consisted online multiplayer content, then it might be understandable, but that's not the case. The game has single player, bluetooth multiplayer, and online multiplayer components, so why would a company remotely kill a $5 app that works in airplane mode?
One leading theory is that the music licensing is up for renewal, as the newer Rock Band Reloaded did not display such a message. Here are the release dates for the apps:
Oct 19, 2009: ROCK BAND launched on App Store. Last update on Nov 30, 2010
Dec 02, 2010: ROCK BAND Reloaded launched on App Store, still on version 1.0
EA's Remote App Kill Switch
How will the app stop working?
Some speculate that the announcement is a timer built into the app. But that is not the case. If the app is launched in airplane mode, there is no message. Thus, we believe EA built in a remote kill switch, since the app only displays the self-destruct announcement if the player is online.
Got the message from EA? Here's how to get a refund from the App Store. Perhaps if enough people attempted to obtain a refund on Rock Band, it'll make EA reconsider its announcement.
[via macrumors]

Related Posts