Dayuse Offers Boutique Hotel Rooms by the Hour
There's an iPhone app for that.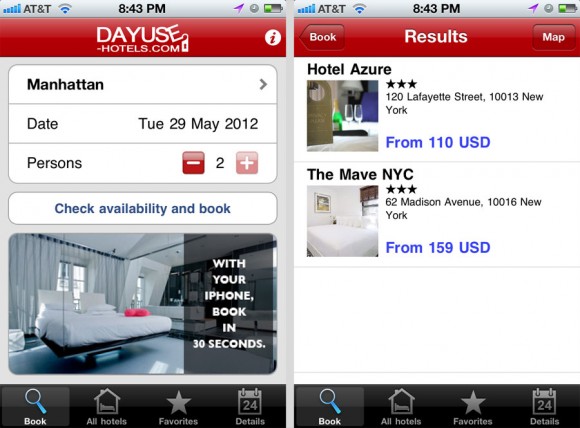 France based company Dayuse Hotels just launched its US service for day time sexytime. Instead of going to a cheap hourly motel, you can get discounted boutique hotels instead.
Currently available in New York City for US. Hotels can be booked for 3 to 7 hours during the day at prices 30 to 70% cheaper than full night's room rates. And there's an iPhone app for that. Features:
No credit card reservation
200 hotels around the world (France, Belgium, Switzerland, Luxembourg, Ireland, Great Britain, Italy, and USA. Majority are in France)
NYC Museum of Sex has a promo where you can enter to win a stay if you share a sexytime experience (drawing on May 30th).
Hidden feature: once you are looking at the individual hotel, you can scroll the photo left or right to see more photos. The app needs to add dots under the photo or otherwise hint that there are more photos.

Related Posts