Amtrak Rolls Out iPhone Ticketing System
All Amtrak conductors will be using iPhone scanner and custom app by late summer.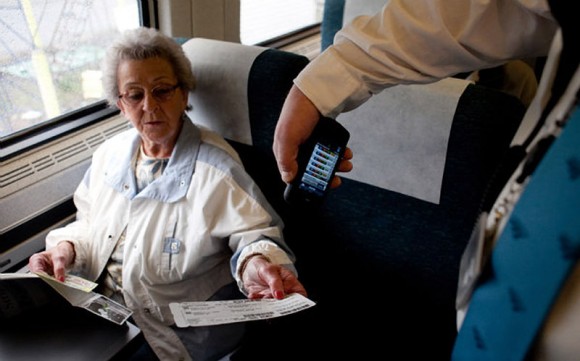 "Amtrak, the government-owned corporation that oversees the nation's railroad train services, has been training conductors since November to use the Apple handset as an electronic ticket scanner on a few routes, including from Boston to Portland, Me., and San Jose, Calif., to Sacramento.

By late summer, 1,700 conductors will be using the devices on Amtrak trains across the country, the company said."
The iPhone are equipped with bar code scanner and extra battery. Besides scanning tickets and confirming its authenticity, Amtrak conductors can also use their custom iPhone app to:
Arrange stops for disabled person
Report equipment failures
Find empty seats
Electronic tickets are easier to book and modify in theory. Passengers can print tickets on paper, or use the Amtrak app (currently iOS only) to show their ticket. Those without an iPhone can use the more clunky website to get their electronic tickets. Now all they need is a virtual store payable with iPhone.
Come on, no fist bumping the conductor?
Image: Craig Dilger for The New York Times

Related Posts