American Customer Satisfaction Index: iPhone Leads, BlackBerry & Samsung Lag
ACSI adds Apple and BlackBerry to its cellular telephone customer satisfaction index, with different results.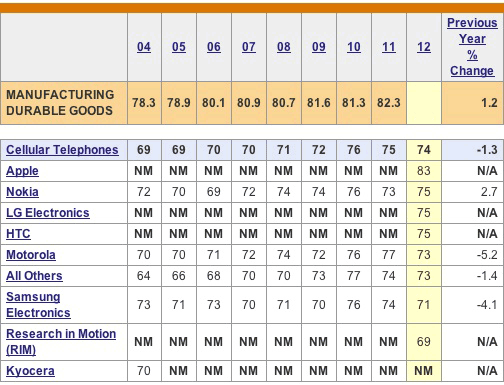 American Customer Satisfaction Index (ACSI) reports that iPhone knock out the competition in 2012. But not only did the Apple phone actually lead the score this year, the iPhone received the highest score of all times (since 2004). In contrast, BlackBerry is dead last this year, and Samsung scored second to last.
"At 83, Apple's iPhone is a game changer when it comes to customer satisfaction. No other cell phone company has ever broken into the 80s. Apple's nearest competitors this year are three companies tied at 75: Nokia (+3%) and ACSI newcomers LG and HTC."
2012 ACSI cellular phone scores:
83 Apple
75 Nokia
75 LG
75 HTC
73 Motorola
73 All Others
71 Samsung
69 Research in Motion, maker of BlackBerry
Samsung, the largest Android phone maker, has the lowest customer satisfaction. Perhaps RIM could wake up Samsung customers from their substandard Android phones. But probably not with the 5 year late and unreleased BlackBerry 10.
[via macrumors]

Related Posts