iOS 5.1.1 Untethered Jailbreak: Absinthe 2.0 Released
New jailbreak for most iOS 5.1.1 devices including iPad 3 and iPhone 4S.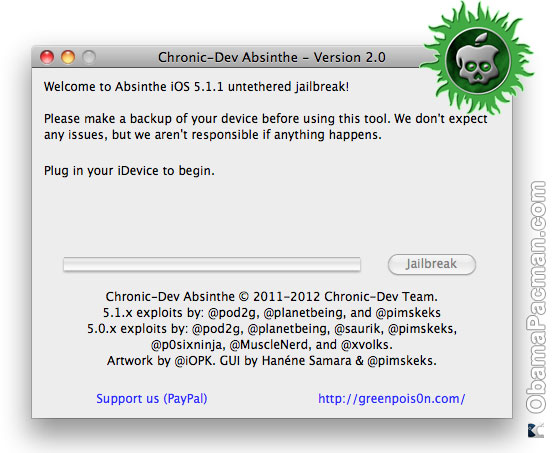 As we reported earlier about the tool, Greenpois0n released Absinthe 2.0 today for iOS 5.1.1 untethered jailbreak.
Absinthe 2.0 supports iOS 5.1.1 on:
iPhone 4S
iPhone 4 GSM / CDMA
iPhone 3GS
iPad 3 Wi-Fi / GSM / CDMA
iPad 2 Wi-Fi / GSM / CDMA
iPad 1
iPod touch 4th gen / 3rd gen
Does not support:
iPad 2 WiFi R2 (2012 model)
Apple TV 3rd gen / 2nd gen
How to jailbreak with Absinthe 2.0
To Jailbreak with Absinthe 2.0, the device should be running iOS 5.1.1. iPad and iPod touch users can just update. However, if you are using Ultrasn0w iPhone unlock or waiting for any potential but unlikely software unlock, you might have to wait.
1. Make iOS device backup using iTunes
2. Once backup is done, go to Settings on your app. Go to General > Reset > Erase all Contents and Settings
3. Open Absinthe and hit jailbreak
4. Once jailbroken, restore from backup
You can ignore step 1 and 2 but it'll take much longer and require much more harddrive space. You also run the risk of Absinthe 2.0 not working if you do not erase all your data from the device.
Already using a tethered iOS 5.1.1 jailbreak? Search and install "Rocky Racoon 5.1.1 Untether" from Cydia.
Download Absinthe 2.0
Check greenpois0n for latest version of this iOS 5.1.1 jailbreak. Check out our iOS tips & jailbreak guides for info about the newest iOS firmware.
Update: updated for 2.0.2 update.

Related Posts