Wikipedia: Google Maps Closed to Some Android Devices, Switches to OpenStreetMap
Wikipedia drops Google Maps, switches to OpenStreetMap for mobile apps.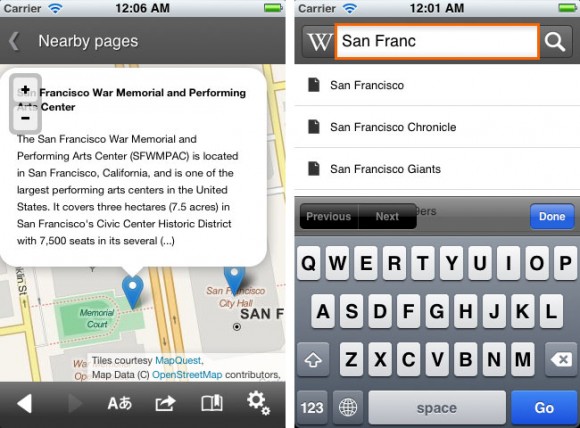 Today, Wikipedia announced (via TechCrunch) that its new mobile app for iOS and Android and that it's moving to open sourced maps. Yuvi Panda of Wikimedia Foundation:
"Previous versions of our application used Google Maps for the nearby view. This has now been replaced with OpenStreetMap – an open and free source of Map Data that has been referred to as 'Wikipedia for Maps.' This closely aligns with our goal of making knowledge available in a free and open manner to everyone."
Google started charging for Google Maps usage in October 2011, and many companies have switched to OSM. Even though Wiki can qualify for low price or possibly free usage as a non-profit, they choose to use OpenStreetMap. Why?
"we no longer have to use proprietary Google APIs in our code, which helps it run on the millions of cheap Android handsets that are purely open source and do not have the proprietary Google applications."
Irony: Not using Google product opens it up to Android phones.
Wiki is currently using MapQuest's map tiles, but planning to switch to their own map tile servers in the "near future."
Other companies dropping Google Maps:
Nestoria explained their reason:
The maps are equal or better
Visible way to support open data
Google introduced charging for map usage
The tools are ready (they recommend using Mapstraction javascript mapping abstraction layer)

Related Posts