Samsung Sends Fake Protestors to Apple Store?
Samsung, maker of fake iPhone, hired marketing agency to send a bus of fake protestors to an Apple Store in Australia.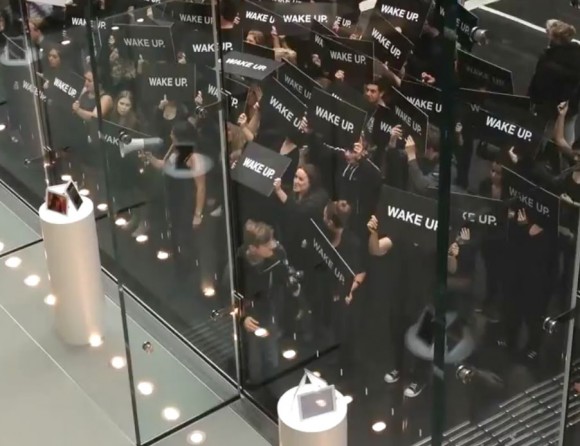 Video: Samsung "Wake Up" Campaign at Apple Store
"We know Samsung has an unhealthy obsession with Apple, but this is getting a little weird."
In its latest round of marketing, Samsung calls Apple customers iSheep. And this latest PR effort in Sydney sent a flock of drones to "Wake Up" Apple Store iSheep.
The irony is, Samsung dressed its flock of fake protestors identically, holding identical signs. Somehow they reminded me of black sheep.
Mumbrella reported that the video is uploaded by blogger Burr "who claimed to have been at the venue by coincidence."
Samsung Marketing Effectiveness
It seems that Samsung is changing its marketing direction. Previously it showed its obsession to recreate everything Apple in its ads:
Samsung is however, still copying iPhone, iPad, and iPod touch. But people are waking up to the fact that Samsung just makes knockoffs, as shown by the latest Verizon iPhone and AT&T iPhone sales.
Update: Samsung denied that it's their campaign. And the perpetrators turned out to be RIM.

Related Posts