Nokia Windows Phone Lumia 900 Event Draws "Thousands"
Microsoft and Nokia surely know how to throw a product launch event! Except people didn't go to see the phone.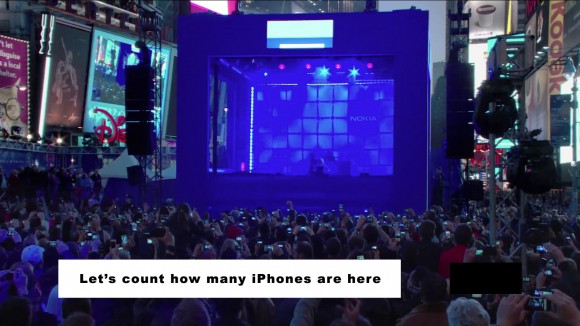 Instead of making a product people want to buy, in recent times, Microsoft gives away concert tickets to attract people. The Windows phone launch also followed the same road.
On Saturday April 7, 2012, the Nokia Microsoft Windows Phone event promo took place at the busy Time Square, as a free concert featuring Nicki Minaj. Brian X. Chen for New York Times bits blog reports:
"There was only a single table of Lumia 900 phones on display, ignored by most of the guests in attendance."
Nokia Windows Phone Lumia 900 Launch Fail
Sunday was the launch date for the Windows phone on AT&T, but Nokia failed to get its act together with its launch partner. New York Times bits:
"When AT&T stores within five miles of Times Square were contacted around noon, 18 of them played an automated message saying they were closed for Easter. Nineteen stores that were authorized AT&T resellers did not answer the phone, and two AT&T resellers that were open said they did not have the Lumia 900 yet.

The stores that played the automated voice message also played a short advertisement for the iPhone 4S and made no mention of the Lumia 900. 'Visit our store to see the exciting iPhone 4S and how only AT&Tís network lets your iPhone 4S download three times faster,' a female voice said."
In contrast, stores open extra early on iPhone launch dates. Some mention the phone seems to be doing well on Amazon, but didn't note:
Second most "popular" phone from Amazon AT&T section is a BlackBerry phone
Most people buy their phone from their carriers, so Amazon numbers don't mean much
Apple does not sell iPhone on Amazon, otherwise iPhone will lead the Amazon sales charts
Here's the concert video. It has some nice concert visuals, but it didn't show any features of the phone.
The video also shows a huge number of people using the iPhone, plus a few obligatory shots of the bulky button Windows phone of course.

Related Posts