Just How Big is Apple? This Chart Says It All!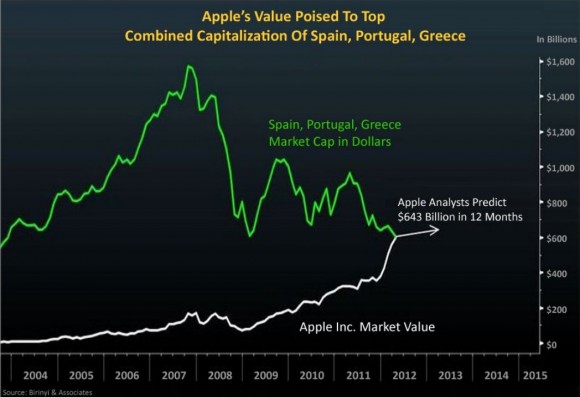 Just get a load of the chart above, will you!
According to it, and this post, it points out that Apple's stock is now pretty much worth as much as all companies in Spain, Portugal And Greece COMBINED!
The above claim is based on Apple's market cap hitting around the $590 billion mark. Because of the recent antitrust moves by the U.S. Government, however, it's now hoovering around the $580B mark, but earlier in the week it hit the historic high of $600B.
Apple eBooks Antitrust Lawsuit
Regarding the recent antitrust charges, CNet is reporting that the DOJ is likely to lose any e-book antitrust suit, at least as far as Apple itself goes, thus eventually meaning it should have very little negative impact on Apple's stock in the long run. After all, as a Huffington Post,  "Apple's antitrust lawsuit might be a big deal for you — but not for Apple", recently noted:
Though the consequences of the suit remain to be seen, some analysts argue the case will be at most a headache for the $600 billion giant.

"Being sued is never a positive thing, but the reason why Apple stock isn't off is because e-books is still a relatively small business for Apple, it's emerging, and probably more importantly, this issue is actually fixable," Shaw Wu, a technology analyst with Sterne Agee & Leach, told Bloomberg TV.

Wu also pointed out that Apple doesn't really make much of a profit on e-books, serving mainly as a conduit between readers and publishers. Apple's annual revenue from e-book sales totaled around $50 million, or a fraction of the more than $100 billion in revenue the Cupertino company raked in last year.

"For Apple," Wu said, "it's about making the content providers profitable selling e-books on iTunes."

Related Posts