How an iPad is Made + Tested at Foxconn [video]
Rob Schmitz, the reporter who ousted Mike Daisey's lies, was invited to Foxconn last week. Here's his video.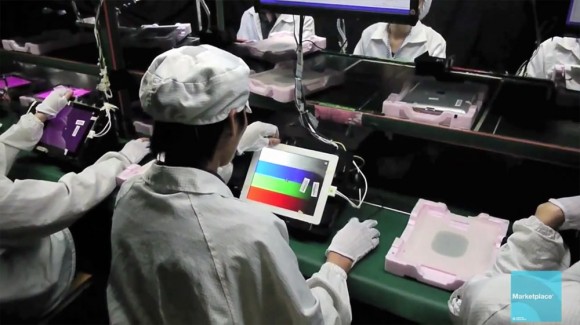 Video: Foxconn iPad Assembly Line at Shenzhen
Marketplace.org "Apple Economy" published a video of what it saw at the Shenzhen China Foxconn factory in this two minute 35 second video:
Foxconn workers at the gate
People and the machines of the Foxconn iPad factory
How iPad is made and tested: assembly of iPad motherboard, battery, gyro testing rig, and display testing
Migrants from the countryside who line up for Foxconn work
Soccer field with giant TV, running track, and outdoor seating
The Marketplace.org video is the second ever video view inside Foxconn. First was Nightline.

Related Posts