Google to Update All Android Phones with Latest OS
Finally! All Android phones will get the latest security and feature updates!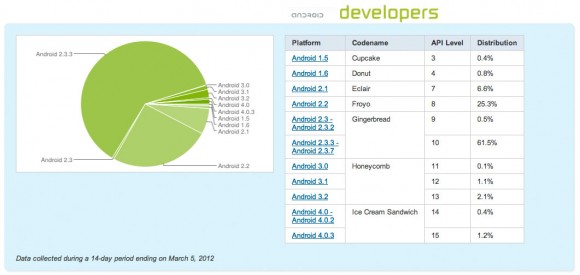 Google about to change Android's sad history of support! Dan Frommer:
Google To Upgrade All Android Phones To Latest Versi… Oh hahahaahahhhaah I get it.

— Dan Frommer (@fromedome) April 1, 2012
Newest version of Android Ice Cream Sandwich 4.0.4 was released on March 29, 2011, and here's Android platform versions now:
25% of users are using 2.2 Froyo (released on May 20, 2010) and are 679 days behind
61% of users are using Android 2.3.3 to 2.3.7 Gingerbread (2.3.3 released on February 9, 2011) and are up to 414 days behind
The number does not include the most popular Android tablet, the Kindle Fire, which runs outdated Android OS. It is not included because the Kindle Fire does not access the Android Market.
Those seeking to update their Android with latest software should dream on. Google doesn't care if Android users have the latest security patches, as long as Google can get track users and get ad revenues from them.

Related Posts