Deus Ex: Human Revolution – Ultimate Edition Released on Mac App Store
One of my favorite RPG stealth / shooter games now available on Mac App Store. (Our pro tips below)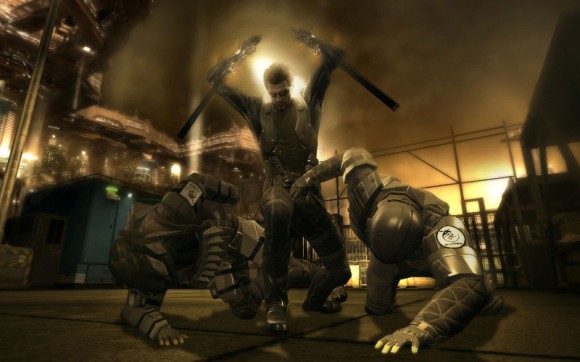 The Ultimate Edition of Deus Ex: Human Revolution [ $49.99 ] is Mac only. Feral its OS X developer included these bonuses in the Ultimate Edition:
The Missing Link DLC ($15 for other platforms)
Exclusives previously available only for pre-orders (2 extra weapons)
Enhanced edition videos in HD
Artwork booklets
You play as Adam Jensen, a security consultant for Sarif Industries. Like the original, with Deus Ex: Human Revolution you can choose your own way to play the game: sneaking around, hacking computers, finding keys, to armed combat. In some situations you can answer answering ramdomized questions correctly to avoid combat.
Due to limited ammunition, the game rewards more stealthy players though. Boss fights are an exception, where sometimes combat is required.
You can upgrade your character with augmentations and skills. Various weapons from handguns, assult rifle, sniper rifle, crossbow, tranquilizer, and heavy weapons can also be upgraded.
Unlike the original, there's now regenerating health but you are not a heavily armored terminator. Thus you need to use cover during combat.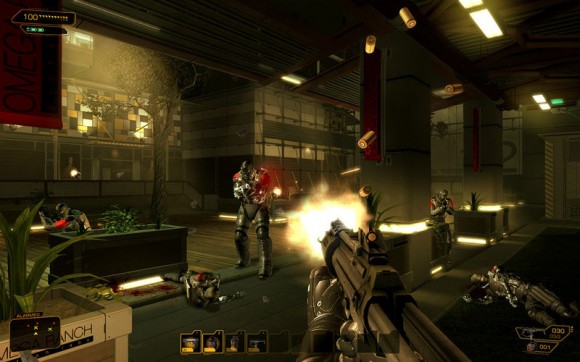 System requirements:
2.0 GHz processor, 4GB RAM, 256MB graphics, 17GB free space, OS X 10.7.3
Does not support these less powerful graphics cards: ATI X1xxx series, ATI HD2xxx series, NVIDIA 9400, NVIDIA 7xxx series, NVIDIA 320M, Intel HD3000 and Intel GMA series
Download it on Mac App Store: Ultimate Edition of Deus Ex: Human Revolution
Tips for Deus Ex: Human Revolution
Pro tip from ObamaPacman:
If you want to upgrade your character fully, hack everything for bonus upgrade points even if you have the passcode
Energy: Your character can self-regenerate the first 1 bar of non-lethal take-down energy. So, don't use inventory item for extra energy, unless you want to do multiple take-downs.
Save explosive weapons for boss fights if you can. You can also throw explosive barrels to damage and stun the enemy. Non-lethal weapons don't work on boss characters.
How to play the hacking mini-game? You can start capturing multiple points from every point you've captured (not just from the last point). Follow arrows to capture.
Trailer – Deus Ex: Human Revolution for Mac
Trailer (2:41):

Extended trailer (5:14) about the story, not much gameplay:

Deus Ex: Human Revolution The Missing Link DLC (1:39):

Logitech Mouse Driver Issue
Small number of people are having some issues with Logitech mouse. Feral support quickly found a solution: Uninstall Logitech drivers by going into Applications/Utilities folder and use 'LCC Uninstaller'.

Related Posts