"ADmented Reality", Google Project Glass with Ads! [spoof]
How the Google Project Glass will actually work in real life… with Google Ads.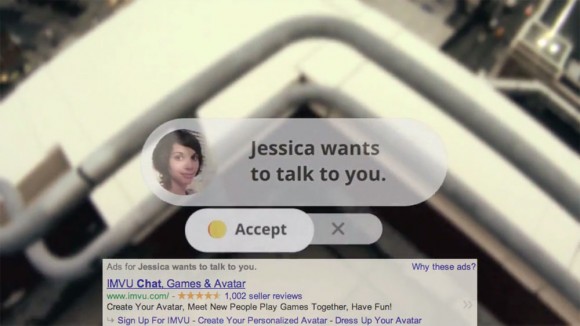 Video: Project Glass, ADmented Augmented Reality
Jonathan McIntosh / Rebellious Pixels, remixed the Google Project Glass CGI video:
"When I saw Google had somehow forgotten to include the ads in their Project Glass augmented reality promotional video – I just couldn't resist fixing the oversight for them…

Because let's face it Google really is just a massive advertising company at heart."
All ads are actual Google ads served by Google search. With all those ads providing additional distractions, Project Glass might make the spoof video "a new way to hurt yourself" a reality.
Jonathan provides "lectures and facilitate workshops internationally on remix video, transformative storytelling, fair use and dynamic HTML5 video tools".
His transformative remix videos such as "Donald Duck meets Glenn Beck" (created in 2010 using over 40 cartoons, see below), was featured by large media outlet such as The New York Times, The Washington Post, The LA Times, and National Public Radio.

Related Posts