Zynga Paying $210 Million for Draw Something Creator OMGPOP
The web game company has been in business for five years, but was an unknown until it recently released hit game "Draw Something" on the App Store.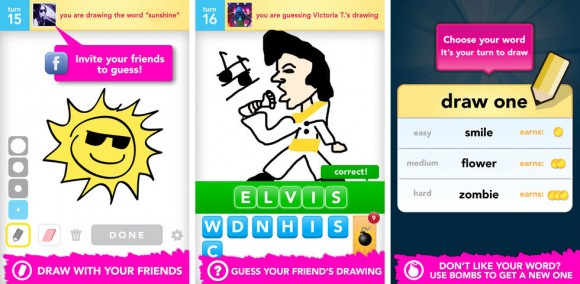 Peter Kafka of AllThingsD reports that the deal price is worth $180 million, with another $30 million for employee-retention payments.
"Zynga will get a New York-based team of about 40 people, and a series of games that OMGPOP has produced over the past few years. But the obvious target here is Draw Something, a sort-of social Pictionary game played on iPhones and Android handsets."
OMGPOP lists over 25 web games on its website. Draw Something is its third iOS game. Other iOS games include Boom Friends and freemium game Puppy World.
"Six weeks ago, [Draw Something] was ported to iOS. Today, the company is worth $180 million."
Angry Birds' developer Rovio also credited the Apple App Store with its success. Draw Something is said to be earning $250,000 per day after App Store fees.
Draw Something recently overtook Words with Friends and currently tops the Apple app store paid and free apps. For many people, Draw Something is more fun than Words with Friends because the game doesn't depend on your vocabulary skills nor competing to see who has the highest score.
The paid version of Draw Something for iOS is currently on sale for $0.99 and has 2000 more words than the free version. The free version has ads. Both are Universal apps optimized for iPhone, iPad, and iPod touch. The game requires Facebook account (opens your iOS Facebook app to authorize) or you can sign up an account using your email.

Related Posts