Using Apple Keynote for Website Layouts and App Design
This European design firm with 83 employees doesn't use the Adobe Creative Suite for UI design.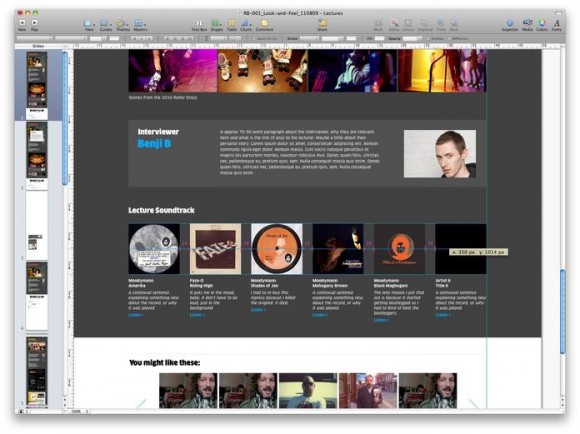 Paul Woods, on working at edenspiekermann (ESPI):
"when I first started working at ESPI last July, I was very surprised to find out that designers were using Keynote for laying out presentations. My surprise turned to alarm when I found out that they were also using it as a design tool to build UI designs for websites and apps. It turns out that I was absolutely wrong. Keynote is an incredibly powerful design tool. Less then one year later, I now rarely (if ever) use InDesign to layout presentations, and I have started using Keynote almost exclusively for any web layouts I do. And not just UX wireframes, but full UI designs. On a recent project, I also used it for poster mock ups, banner designs and a bunch of other formats."
ESPI makes beautiful work. An example of design using Apple Keynote is the Red Bull Music Academy (here's the ESPI blog post about the design). Reasons for using Keynote include:
Ease of use. Accepts virtually all files, which are automatically embedded (no missing files)
Flexibility and non-destructive editing. One high resolution version for print, web, retina, and non-retina development
"The cleverest grid lines I have ever met"
Animation tools that could be used for app prototyping (no tacky PowerPoint effects)
Third party add-ons/libraries: "Many resources/libraries are available (often for free) to make visualization and mock ups even faster (e.g. Keynote KungFu, Keynotopia). Also when you combine this with tools like Glyphish you can have testable solutions quickly rather than getting bogged down in details."
Keynote Kung Fu allows using Keynote to create wireframes and clickable prototypes for the web and mobile devices for $12. Looks really great.
Like every thing in life, there room for improvement of course. But considering that Apple Keynote Mac App costs only $19.99 on the Mac App Store, it seems to be great investment if you can't afford the Adobe Creative Suite
, which can cost up to $2,599.00 for the Master Collection.
[via daring fireball]

Related Posts