Twitter Patents Pull to Refresh / Scrollable Refresh Trigger [u]
This could be why Apple didn't implement this feature in its iOS apps.
USPTO Patent Application 2010/0199180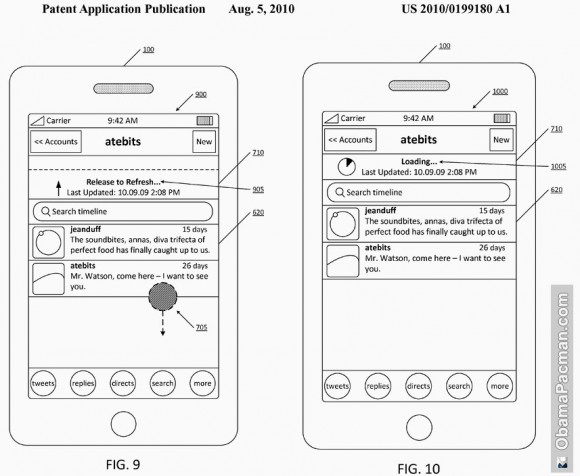 Dustin Curtis noted a United States Patent Application 20100199180 titled "User Interface Mechanics" lists its inventor as Loren Brichter, the developer of Tweetie (which Twitter purchased):
"A method, comprising: displaying a content area; receiving input associated with a first command, the first command including a request to scroll the content area; and based on the first command, performing a second command, the second command being independent of the first command."
The wide reaching doesn't limit itself to pull to refresh, used by Facebook's iOS App [Free, App Store], our favorite Twitter app Tweetbot [$2.99, App Store], among many others apps. If granted, it's also applicable to anything that issues a command upon pulling down a menu, such as the to do list app Clear [$1.99, App Store], where the user pulls down to create a new item.
Thankfully the patent is only filed but not granted yet. We're pretty sure many App Store titles had that feature before 2010 so it may fail the prior art portion of the patent examination process.
Update: Pull to refresh was implemented in early 2010 by Tweetie, and apparently it was unique for its time. No other apps had it until Tweetie created the feature, Developer Paul Hadddad of TweetBot noted.
Saying "pull to refresh is obvious" is wrong. Like the best ideas it feels natural, but AFAIK before Tweetie no one came up with it.

— Paul Haddad (@tapbot_paul) March 28, 2012
In an August 2010 TechCrunch article "Facebook Apologizes Over 'Pull To Refresh; Code Lift. Attribution Added", MG Siegler wrote that "Pull to Refresh was originally the work of Loren Brichter". But we notice there is a potential problem, the article:
"Another group of developers, Enormego, rebuilt the functionality and open-sourced it (apparently with Brichter's blessing) a while back."
Assuming the claim is legit, do you still own the work IF you open sourced it?

Related Posts