Tricycle Drifting Video [Made on Mac]
Filmed in New Zealand in 3 hours by Devin Graham.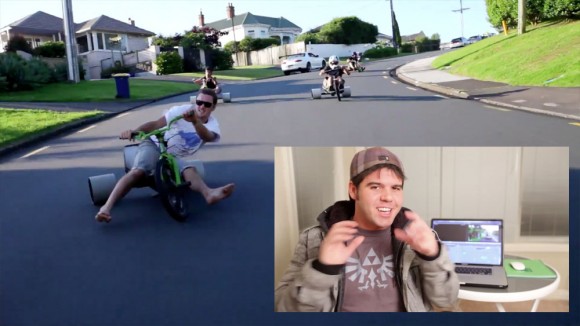 Video: Trike Drifting
Gizmodo:
"Watch as the riders turn a simple downhill into a real-life MarioKart battle."
Tricycle drifting with some 360 spins while going down on a windy road, plus wheelies. Doesn't look dangerous at all.
Download the newly released song on iTunes, $0.99.
Video: Behind the Scenes Trike Drifting
Filmmaker Devin Graham talks about why he shot the film in this behind the scenes video.
Equipment used:
Camera 1: Canon 5D Mark II
Camera 2: Canon 7D
Laptop: Apple 17″ MacBook Pro with Magic Mouse
Steadicam: Glidecam HD 2000
[Video + second channel via Gizmodo]

Related Posts