This American Life Retracts Mr. Daisey and the Apple Foxconn Factory
Mike Daisey admitted that he lied to news outlets about his reports.
Significant details of Daisey's play about his travel to Foxconn Factory at Shenzhen China, The Agony and the Ecstasy of Steve Jobs, which he reported to the media as his personal expierience are proved to be wrong.
Today, Ira Glass of This American Life retracted the report:
"I have difficult news. We've learned that Mike Daisey's story about Apple in China – which we broadcast in January – contained significant fabrications. [...]

Daisey lied to me and to This American Life producer Brian Reed during the fact checking we did on the story, before it was broadcast. That doesn't excuse the fact that we never should've put this on the air. In the end, this was our mistake."
This American Life is produced by WBEZ Chicago and distributed by Public Radio International (and to NPR). It is quite classy for them to make a public retraction. Most publications would just try to sweep it under the rug. (The New York Times, which opportunistically ran their story the day after Steve Jobs died, is trying just that, Daring Fireball noted).
Not only did Daisey's translator, Cathy Lee, disputes some of the most dramatic moments of the story, Daisey admits that he fabricated part of his show.
American Public Media Marketplace notes:
Ira Glass: "So you didn't meet an actual worker who'd been poisoned by hexane."

Mike Daisey: "That's correct."
Daisey also admitted he did not talk to any underaged Foxconn workers nor encounter guards with guns at Shenzhen China.
Mike Daisey's Excuse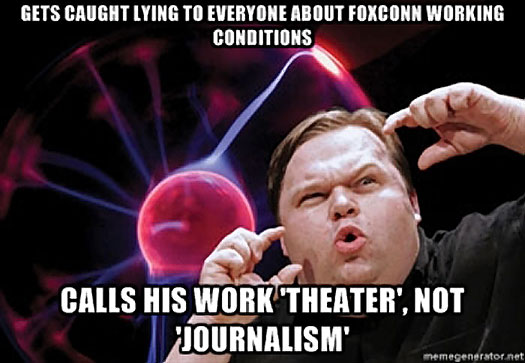 Daisey's excuse to Ira Glass is that it's theater:
"My mistake, the mistake I truly regret, is that I had it on your show as journalism. And it's not journalism. It's theater." – Mike Daisey
Perhaps he doesn't understand the problem is not with his show. But rather that he presented his show to the media as facts.
This American Life episode 460: Retraction radio episode can be streamed, downloaded as audio or full transcript.

Related Posts