Steve Jobs vs. iPad Official Reseller in Heaven [comic]
International iPad pricing explained by reseller.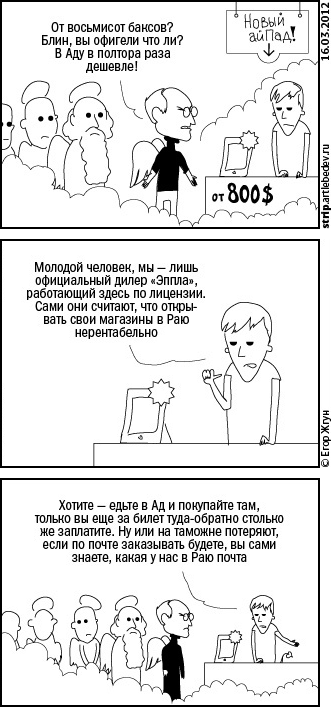 Daily comic from artlebedev.ru, one of the premier Russian design studio.
Translated to English by ObamaPacman reader M.
1. Sign: 'New iPad from $800′
Steve Jobs: "You guys crazy? In Hell it's half this price"
2. "Young man, we are only an official licensed dealer of Apple. They themselves decided it is not profitable to open a store in Heaven."
3. "If you want – go to Hell. But you'll spend just as much for the ticket, or they will lose it in customs, if you order by mail. You know how mail works around here."
There are no Apple Stores in Russia, thus Russian Apple fans have to buy products through resellers.
The price is in USD, not in Rubles because of a lot of Russians think of money in Euros or Dollars. So the comic strip might be talking about the price of iPad 2, now $399 being charged double there.
There are over 300 Apple Retail Stores located in US, United Kingdom, Japan, Canada, Italy, Australia, China, Switzerland, Germany, France, Spain, Hong Kong, and Netherlands.
Pac-Man Ghost and Social Media
Bonus comic: Pac-Man ghost Blinky signs up to Twitter. No translation needed:


Related Posts