Mike Daisey: This Is A Work of Non-Fiction
Daisey now claims his work is theater, contrary to what he had printed on the playbill.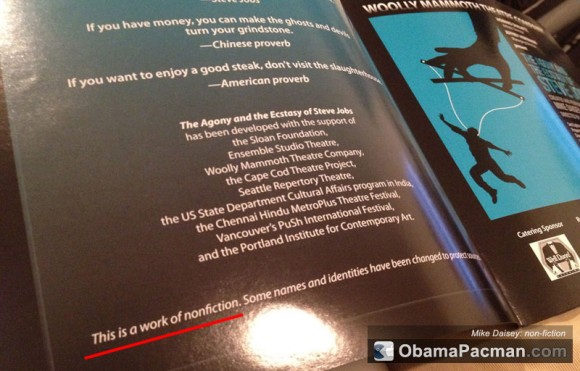 Alli Houseworth, an independent arts consultant and former marketing and communications director at Woolly Mammoth Theatre Company wrote on Arts Journal blog, "This Is A Work of Non-Fiction":
[Mike Daisey] insisted that 'This is a work of non-fiction' be printed in playbills. This was to be a work of activist theatre. Staff at Woolly handed out sheets of paper to every audience member that left our theatres, per Mike's insistence, that urged them to take action on this matter. […]

And then what happened? We learned from a radio producer, a year later, that Mike's facts weren't true. And what Mike did was apologize to him, to Ira. But he never apologized to us, and he never apologized to our audiences.
I dug up my copy of the The Agony and the Ecstasy of Steve Jobs program. And yes, the nonfiction claim is there. And no, Daisey has not apologized to his audiences at this time.
Image of program by ObamaPacman

Related Posts