iTunes 1080P vs. 720p Video: File Size + Quality Improvements
1080P movies and TV shows from iTunes are using even more efficient H.264 compression.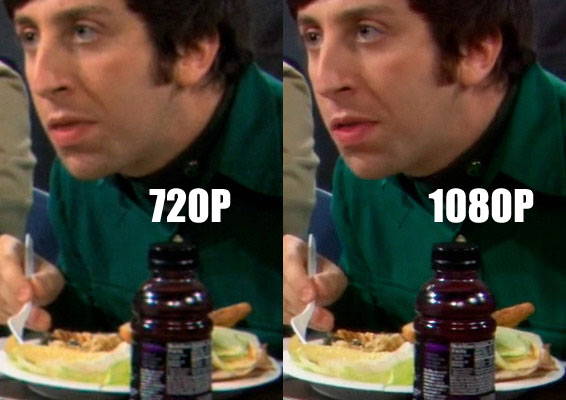 Left 720P vs. right 1080P iTunes video comparison. Bottle shows improved detail.
Arstechnica, iTunes 1080p video looks better, saves space using better H.264 compression:
"In the iTunes 10.6 preferences under Store, you can select whether HD downloads come in 720p or 1080p resolution. In the iTunes Store, movies conveniently list the file size for the selected format. A couple of examples: Hugo is 1.74GB in SD, 3.99GB in 720p, and 4.84GB in 1080p. Monty Python and the Holy Grail is 1.00, 2.91, and 3.65 gigabytes, respectively. However, to determine the quality difference, I looked at two (currently free) TV episodes: episode 1 of season 5 of The Big Bang Theory, and the first episode of Awake."
1080P videos contains 1920×1080 pixels, 2.5 times that of 720P 1280×720 videos. But the iTunes file sizes are under 50% larger. The above examples shows only 21% and 25% larger file size. Apple achieves it by using improved H.264 compression for the 1080P format.
The typical 1080P video is 2x the size of 720P video, which means longer download time and more storage required. iPhone 4, iPad 2, and 2nd gen Apple TV supports 720P iTunes videos.
The improved compression means 1080P iTunes content requires the latest hardware: iPhone 4S, iPad 3, and 3rd gen Apple TV. They can also be watched on Mac or PC, if your computer is recent enough to support it. You can test by downloading trailers in 1080P.

Related Posts