iPhoto iOS App Not Using Google Maps, Uses OpenStreetMap
Apple's new iPhoto app for iOS is using OpenStreetMap instead of Google Maps.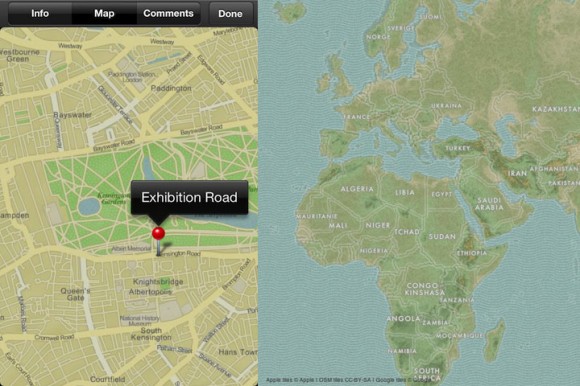 Yesterday, 512 Pixels noticed that
"Whatever map tiles are in iPhoto for iOS, they don't look like Google Maps."
It's not Bing Maps either. Perhaps Apple is testing its own in house mapping service? In 2009 Apple bought mapping company PlaceBase. In 2011 Apple bought 3D map company C3 Technologies.
Is it Apple's own map? The Next Web reports that "the data in the iPhoto for iOS map pane is being downloaded from Apple servers directly".
iPhoto iOS Maps Uses OpenStreetMap
Today, OpenStreetMap announced that the iPhoto app is actually using their map but using old data:
"Yesterday Apple launched iPhoto, its photo management app, for the iPad and iPhone and we're rather pleased to find they're the latest to switch to OpenStreetMap…

The new iPhoto for iOS, however, uses Apple's own map tiles – made from OpenStreetMap data (outside the US)."
They are working with Apple to be credited. Now the question is: what data is Apple using for map inside the US?
iPhoto iOS Map Lacks Detail?
One source of complain is the detail of the map. SoftwareMaven noted on Hacker News why it doesn't matter:
"These maps are used to give you an idea of where a photo was taken, not to provide navigation to it, so detail isn't quite as important."
ObamaPacman believe Apple is only testing a switch of mapping service. The real Apple map service is expected to release with iOS 6 and iPhone 5 (aka the new iPhone) later this year.

Related Posts