Mobile Payment Wars: Square, Triangle, Semi-Circle, & Rectangle
Square mobile credit card payment terminal, and real competitor products.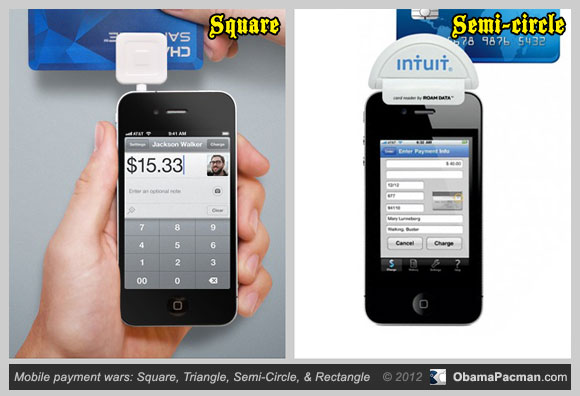 Square: Launched in May 2010, Square [App Store] became a leader of mobile payment terminals after they figured out how to make a low cost credit card processing dongle integrated with iOS app. The dongle connects through the headphone jack (instead of dock connector) on an iPhone, iPod touch, and iPad. Their dongle is square shaped.
Semi-Circle: In 2011, Intuit GoPayment Credit Card Terminal [App Store] was launched with a semi-circle dongle (I learned of this after seeing one in use last Friday).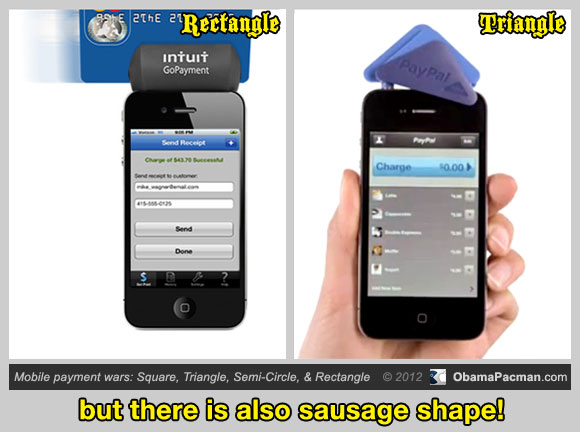 Rectangle: New versions of the Intuit card swiping dongle is now a rectangle.
Triangle: Looks like PayPal cut a corner there! Today, March 15, 2012, PayPal copies Square (aka released its own competitive product), launches triangle shaped credit card processing dongle called "PayPal Here". App not yet on [App Store].
At least it wasn't a sausage. Here's the side view of Intuit's new mobile credit card reader: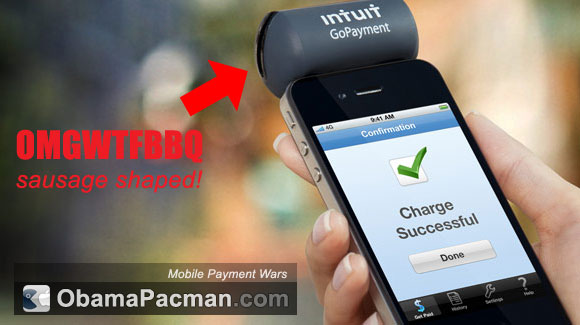 Instead pulling a Samsung, it seems that neither Intuit nor PayPal copied the shape of Square's dongle. But come on, you think they would hire an industrial designer? And notice Square uses a clean design while the latecomers tried to use their customers to advertise the service by putting the logo in your face.
By the rate this is going, perhaps one of the future copycat services will make starfish dongle.

Related Posts