What's the Best Tablet? Why Android is no Match for iPad
Tablet experience depends on app quality, and PC Mag notes Android tablet apps are dreadful.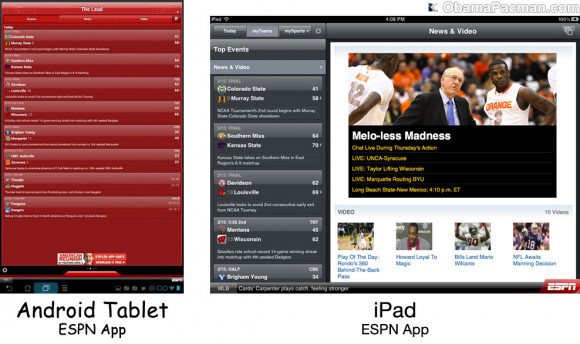 When even Google won't give number for Android tablet apps on Android Market / Google Play, you know something is wrong. PC Mag "The iPad Wins Because Android Tablet Apps Suck: An Illustrated Guide":
The first problem: Finding Android Tablet Apps
No tablet category on Google Play, so it's difficult to find actual tablet apps
Google Play shows different apps on its website and on individual tablets, even the high end Android tablets can't see a number of available apps
"Just because an app claims to run on tablet doesn't mean it was designed for tablets"
Most Android tablet apps are lousy:
"Android apps are often formatted for phones. They'll work on tablets – barely – but they'll be ugly, with less functionality than their iPad counterparts. Items that could be pop-down menus or swipeable content require screen reloads. Little information is displayed per page, for instance, on the eBay app. Graphics sometimes appear low-resolution, distorted (as on the CBS Sports Football app), or are overlapped by ads. The number of clicks to do things increases dramatically."
Fragmented Android devices running old firmware don't easily support universal tablet apps:
"The two most-popular Android tablets, the Kindle Fire and Nook Tablet, are small-screen devices running an older version of Android (2.3), which doesn't support the Fragment APIs necessary to create truly universal phone-and-tablet apps."
For more, check out the two page PC Mag article, which includes a slideshow of comparison screenshots between the iPad and the "best" Android tablet, the Asus Transformer Prime TF700.

Related Posts