Forget The iPad 3, I Want This Futuristic iPad 4, And I Want It Now!
As the iPad 3's launch is getting ready, Computer World's Jonny Evans posted the above viral video of an iPad 4, and boy-oh-boy would I ever love to see this edge-to-edge screen beauty come to pass!
In one word:
WOW!
The video is created by Aatma Studio, the same folks that brought the iPhone 5 virtual keyboard + holographic projector concept.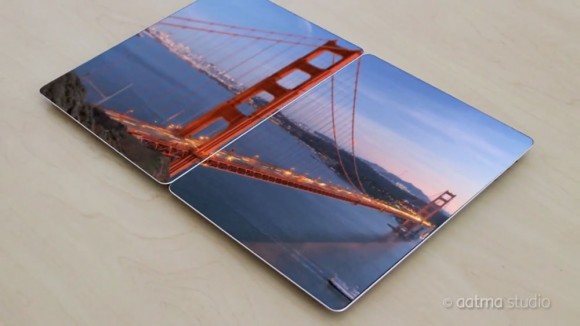 I think the people behind this video should be hired by Apple el-pronto, because wow again, this is the kind of thinking that has already made Apple the most valuable and admired company in the world, and this thing, if ever it existed would more-or-less guarantee that it would stay there.
When it comes to the future, Jonny Evans writes:
With billions banked and 55 million iPads shipped so far, there's little to limit what Apple can deliver in tablet form in future.

The only barriers to future evolution will be component costs, technological limitations, battery life and the like.

This is why today's viral iPad video is so enticing. Its premise isn't so far-fetched:

Why shouldn't two iPads carry an active intelligence in order to create one big playing screen for gaming?
What's in the way of the inclusion of pico projectors?
In future as component costs shrink and technology advances, why not think about holographic projections of active game parts — think Princess Leah in Star Trek.
Personally, I don't know if we have the technology to build this thing, but again…. WOW! If I were Tim Cook I start working on something like this el-pronto before Google, Microsoft does, because, for one thing, I think that this iPad concept is totally and freaking awesome!

Related Posts