iPad 3 Specs: 4G LTE, Quad-core Graphics, iSight, Retina Display…
Specs, price, and availability of the new iPad 3.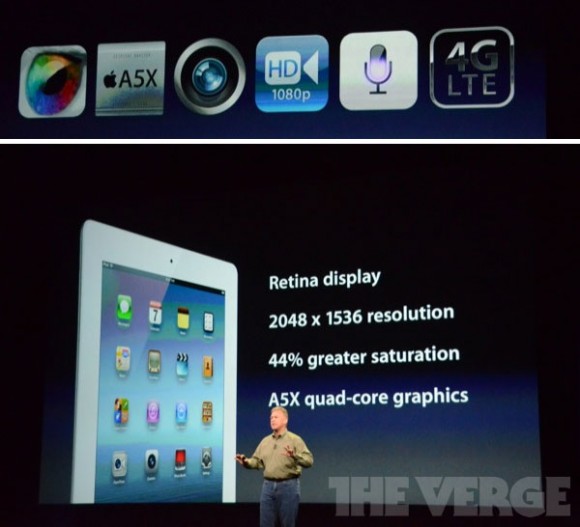 Apple introduced iPad 3 today, March 7, 2012. iPad 3 specs:
A5x with Quad-core graphics
iSight camera with iPhone 4S lens, 5MP, 1080P video recording, stabilization
Voice dictation
4G LTE support with up to 72Mbps. Carriers: AT&T, Verizon, Telus, Rogers, Bell
Personal hotspot (if carrier supports it)
10 hour WiFi version, 9 hour 4G LTE battery life
9.4mm, 1.5 pounds
Available in black and white
Same price as iPad 2. 16GB, 32GB, 64GB:

iPad 3 Wifi: $499. $599, $699
iPad 3 4G: $629, $729, $829
iPad 3 availability: Friday March 16 (as expected) in United States, Canada, United Kingdom, France, Germany, Switzerland, Japan, Hong Kong, Singapore, Australia. Pre-order starts today.
[via The Verge]

Related Posts