iPad 3 Availability Time: Friday March 16 at 8AM
Retail Apple Store sign confirms new iPad launch time will take place this Friday morning.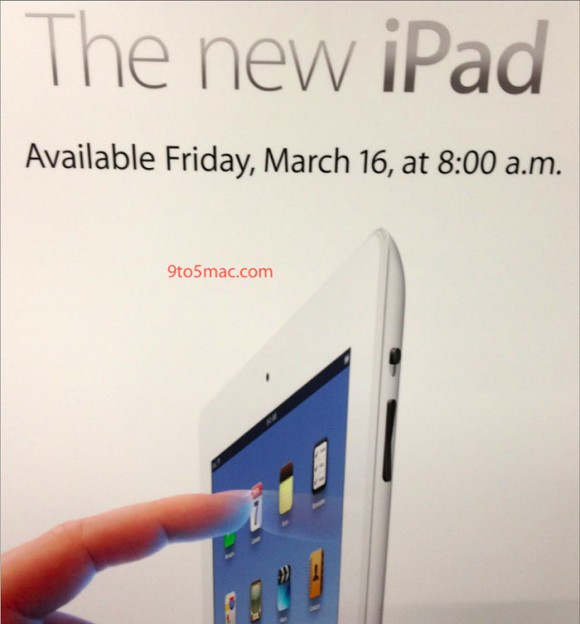 A new Houston Apple Store is opening at 8AM this Friday, hinting the new Apple tablet launch time. Now it's confirmed with additional evidence.
9to5Mac reports:
"artwork from upcoming Apple Store frontage which confirms Store will open early ñ 8am ñto sell the third generation iPad".
Apple already sold out of iPad 3 inventory for launch day delivery. So if you have not pre-ordered the new iPad but still wants one on launch day, we recommend getting to an Apple Store 2 to 3 hours early.
Getting up early not your thing? We've posted an iPad 2 inventory tracker last year, so follow us @obamapacman to hear about the new iPad 3 inventory tracker soon.
iPad 3 Launch Countries
iPad 3 is expected to be available at 8AM on March 16, 2012 at Apple Store in these countries: United States, Canada, United Kingdom, France, Germany Switzerland, Japan, Hong Kong, Singapore, and Australia. Apple retail partners are also expected to sell the new iPad at that time.
On March 23, 2012, Apple is expected to release the new iPad at Austria, Belgium, Bulgaria, Czech Republic, Denmark, Finland, Greece, Hungary, Iceland, Italy, Liechtenstein, Luxembourg, Macau, Mexico, Netherlands, New Zealand, Norway, Poland, Portugal, Puerto Rico, Romania, Slovakia, Slovenia, Spain, and Sweden.

Related Posts