iPad 3 Display: 99% sRGB Standard Color Gamut Accuracy
iPad 3 display shows more accurate colors than everything except for a professional calibrated reference monitor.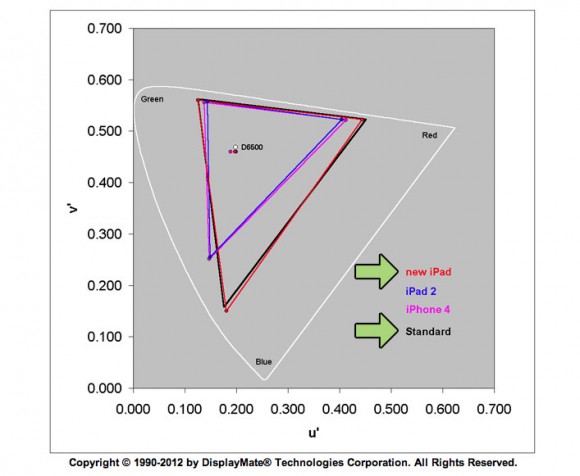 Display Mate compares iPad 3, iPad 2, and iPhone 4 retina displays. On the accuracy of the new 2012 iPad display in terms of sRGB-Rec.709 Standard Color Gamut:
"the new iPad has a virtually perfect 99 percent of the Standard Color Gamut (a 38 percent improvement over the iPad 2). The colors are beautiful and accurate due to very good factory calibration – they are also 'more vibrant' but not excessively so or gaudy like some existing OLED displays."
What about the sharpness of the iPad 3 retina display?
"All (computer generated) text will appear much sharper, but it will make the most difference whenever there is tiny text and fine graphics, which you often see when surfing the web (like the front page of The New York Times) or in a complex spreadsheet."
We note that it's also perfect for VNC / remote computer access, considering the iPad 3 has more pixels than the 21.5″ iMac with 1920 by 1080 HD display.
Their conclusion? iPad 3 will be great for professional applications, including medical imaging and anyone such as architects who need to refer to detailed documents. There is much more info on the Display Mate comparison article so go read it.

Related Posts