iOS 5 Camera Thumbnail Bug [video]
This camera app bug shows thumbnail of an already deleted private NSFW image.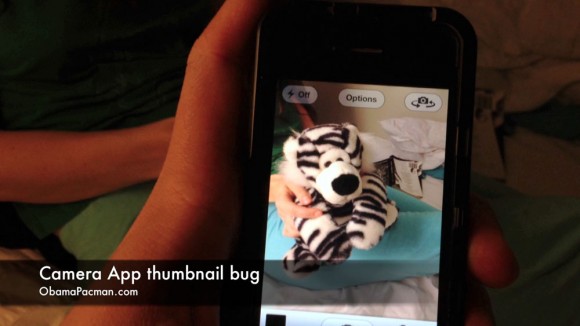 Video: iOS Camera App Shows Deleted Image Thumbnail
OP noticed a combination of events that could result in an embarrassing moment if you hand someone your iPhone to take photos. How to reproduce on iPhone:
Open camera app and take a few photos you would want to delete, perhaps something NSFW
Click thumbnail to go to Camera Roll photos
Delete photos from Camera Roll
Go back to camera app, the thumbnail still shows the deleted photo
This can be reproduced consistently on iOS 5.0.1 or 5.0 on iPhone 4S. The camera app probably exhibits the same bug on iPod touch and iPad. Anyone know if the bug is there on older iOS versions?
Expected behavior:
Thumbnail should update with each deleted photo to show the most recent undeleted photo.
Why is it a problem?
You think you are done at step 3, and hit the sleep button. Later, you unlock the screen and hand someone your iPhone to take a photo. They hit the camera app icon, but then can see a thumbnail of the embarrassing NSFW photo you thought you deleted.
Why it's not a problem:
The thumbnail is so small that most people don't notice what's in it.
How to fix? There are a few options to mitigate this problem for now:
Quite Camera app. On relaunch, it'll show the correct, updated thumbnail.
Take another photo once you've deleted the NSFW photos. The camera app will show the thumbnail of the new photo.
Launch the camera app from the lock screen. (With the screen off, double-click home button and tap the camera icon.) The benefit of launching the photo app from your lock screen is that others cannot easily access your camera roll.
Optional: add a lock screen passcode / password. For those without a passcode, if someone else has access to your phone, seeing a tiny thumbnail is the least of your worries.
Use an alternative camera app for NSFW photos :)
Check out more iOS and Mac tips from us.

Related Posts