How to Hold an iPad: Consumer Reports vs. Real Person
Paul Reynolds, Consumer Reports electronics editor, said the new iPad 3 gets uncomfortably hot. Perhaps this is how he tests the iPad.
iPad 3 #Warmgate
Last night, I played Sky Gamblers: Air Supremacy [$4.99 Universal], a great fight airplane game with Retina Display 3d graphics designed for the new iPad 3. The game was so engrossing I played for a few hours straight, beating it and played a number of online multi-player matches..
It's a demanding use of the iPad, and the iPad 3 was not "uncomfortably hot" or "very warm". Actually, my iPad 3 was not even noticeably warm.
Note how I hold my iPad 3. Judging from the Consumer Reports' "iPod 3 hotter" thermal image, I also simulated Paul Reynolds' hot new way of holding the new iPad.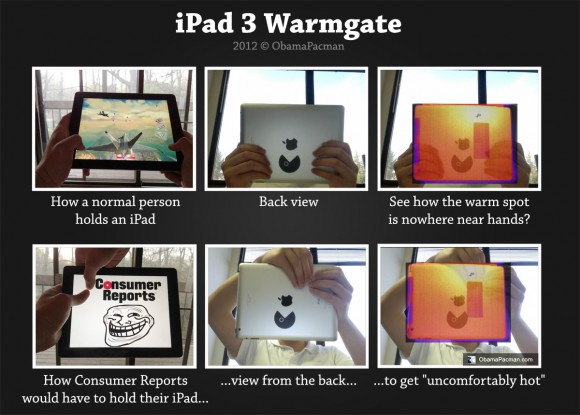 It looks like the ministry of silly iPad holds and sensationalism gate has a grant for him.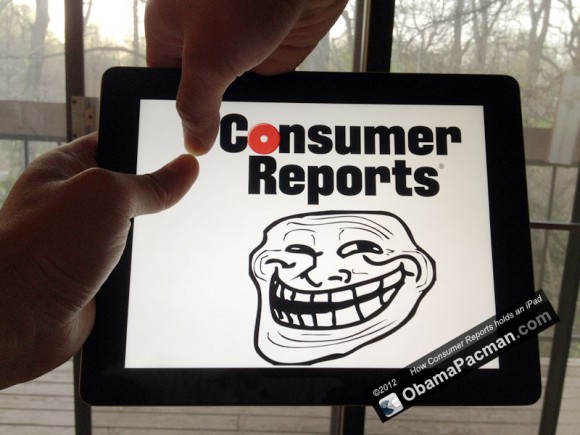 No wonder Consumer Reports' own press release contradicted what Paul Reynolds said. (We got a great video coming up, stay tuned on youtube.com/obamapacman !)

Related Posts