How to: Get Siri-like Feature on Mac Using OS X Speech [video Guide]
Want to add Siri to Mac? Here's the next best hidden feature, built into OS X.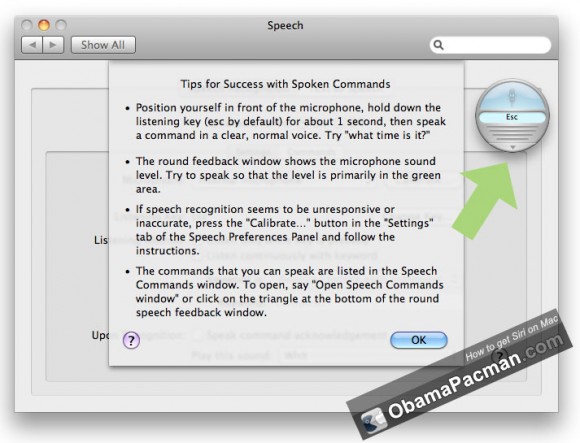 Video: Siri-like Speech Commands on Mac
Lex Friedman from Macworld made this Video.
The OS X Speech command feature is not as comprehensive or entertaining as Siri on iPhone, but it's easy and free to set up Siri-like speech recognition commands to control a Mac. How to enable:
Go to System Preferences / Speech / Speech Recognition
Turn on "Speakable Items"
By default, you can press a key (Esc) to have the Mac listen to a command. But you can set it to listen continuously with keyword. The keyword can be changed to "Siri", but the default is "Computer". Optionally, you can call it Jarvis, like the Mac based Ironman Project Jarvis.
You can ask: "Show me what to say" or "Open speech commands window" for a list of commands.
How to Vary the Command, Like Siri
By default, you have to speak the command in an exact manner. But you CAN make the speech recognition engine more flexible, just like Siri!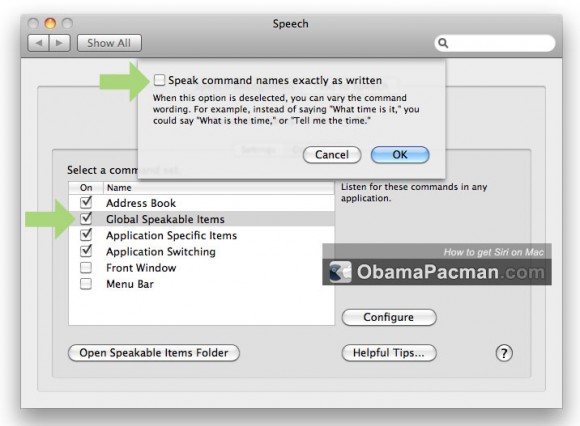 ObamaPacman tip: Go to Speech Recognition / Commands / Global Speakable Items, and click "configure". Then deselect "Speak command names exactly as written."
If only someone had turned on this feature, it would have saved the time-traveling Scotty some embarrassment in Star Trek IV. "Hello computer", featuring a Mac:
See more Mac + iOS Tips & Tricks.

Related Posts